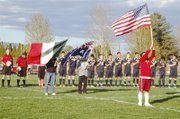 GRANDVIEW - Last night's match against Ellensburg may have gone into double overtime, but Grandview prevailed 2-1 in the end.
Greyhound Coach Anne Holden said Grandview threatened the Bulldog keeper early in the match, being rewarded with a goal off a corner kick. It was in the fifth minute of the match that Victor Valencia delivered the ball to Ismael Montes to take a 1-0 lead.
"Valencia hit the cross and Montes connected on the header," Holden said.
Ellensburg scrapped with the Greyhounds throughout the remainder of the opening half, but was unable to capitalize on any scoring opportunities.
The dog fight continued after intermission. Both keepers denied the scoring attempts for another 21 minutes.
It was Ellensburg that broke through the defensive pressure of the Greyhounds at the 61-minute mark. Bulldog Brad Johnson was credited for an unassisted goal.
Holden said he booted the ball from a set piece free kick just outside the penalty box and Grandview keeper Elmer Campuzano was unable to stop the ball from sailing between the crossbars.
"With the scores even, the already exciting game went into some intense overtime in search of a winner," she said, noting the match remained tied 1-1 at the end of regulation.
The teams battled back-and-forth through the first overtime and it wasn't until the second overtime that the 'Hounds capitalized on a volley from Cesar Orduno. He found forward Fabian Lua and delivered a pass, who scored to settle the match.
Grandview made seven scoring attempts and Campuzano recorded five saves.
Ellensburg keeper Gonzalo Contreras denied the Greyhounds five times, while his team attempted to score six times.
The Greyhounds (3-1, 7-2) will tomorrow (Saturday) attempt to take down Ephrata at Rich Leenhouts Stadium in Grandview.