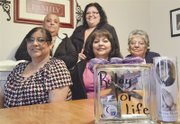 Team members participating in the annual Lower Valley Relay for Life have been hard at work collecting donations to benefit the American Cancer Society.
One team, Team Nico, however is at a loss. A donation jar Sunnyside's Jack in the Box allowed the team to put in the popular eatery was stolen last month.
"It's not about us...it's about all those people who benefit from Relay for Life," said Santa Myers.
Her family has been deeply impacted by cancer. The team is named in honor of her brother, Nicholas Melendrez, who lost a battle with cancer last November.
Her sister, Charra Garza, survived breast cancer in 1997; sister Pee Wee Cortez survived kidney cancer the same year; sister Abelia Ramirez is fighting bone cancer that was diagnosed last year, stemming from a breast cancer diagnosis in 2005; sister Angela Melendrez survived bone cancer diagnosed last year; and sister Aurora Escobar is currently in the hospital battling colon cancer. They also have a cousin, Yolanda Flores, who lost her battle with stomach cancer this past February.
It's the survivors and their family that have taken up the fight against cancer, participating for the first time as a team in the annual Relay for Life.
"We're angry," said Myers, when talking about the disrespect shown to cancer victims by the thief who made off with the donation jar.
"It's unknown how much money was in it," said Myers' niece, Angela Flores, who called the restaurant after finding out the jar was stolen.
She said the management was willing to allow her to view surveillance footage, but she couldn't make out the identity of the person that stole the jar.
"This is not just for my mom and my aunts...it's for anyone who has to fight cancer," said Flores.
Cruz Amaro is another member of the team who is upset about the theft. She said merchants have been good to the team, allowing them to leave donation jars at the local businesses.
"To think someone could be so disrespectful is disgusting," she said.
In addition to placing donation jars throughout town, the team has been hard at work making and selling scarves, hosting raffles, baking treats, making tamales and barbecue sauces, as well as blankets.
This coming Saturday the team is also hosting a dance at the Sunnyside Eagles Aerie lodge.
The family has rallied with the goal of raising $5,000 for Relay for Life.
A family member from Mt. Vernon, DJ Steve (Uvalle), has donated his services to provide music for the dance at which donations will be accepted.
The dance will be at 8 p.m. and the team will also be selling food and beverages to those attending the event.
"We know we can do it," Myers said of reaching the team's $5,000 fundraising goal, but said the family is still angry and dismayed that anyone would steal their donation jar. However, they all continue to have a positive outlook.
"Time has helped," she said.