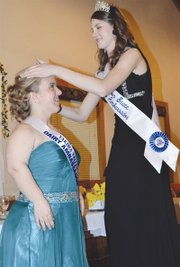 Yakima Valley Dairy Ambassador Program festivities took place last night at Sunnyside's Snipe's Mountain Microbrewery and Restaurant.
Sunnyside High School junior Katie Hutchins was presented the Yakima Valley Dairy Ambassador crown and former Washington State Department of Agriculture Director Dan Newhouse was presented the Friend of the Dairy Industry Award.
Hutchins is the second member of her family to serve as a representative of the Yakima Valley dairy industry. Her sister, Emily, served as the Yakima Valley Dairy Ambassador alternate three years ago.
The younger Hutchins, said Washington State Dairy Women's Association President LaVonne Boogerd, was this year's sole candidate. "She still had to qualify," she said of Hutchins, noting the candidate was judged on an interview and for a speech presented to the Yakima Valley Dairy Women's Association.
Hutchins will graduate with the SHS class of 2012 because, although she is a junior, she has earned all her high school graduation credits.
She is a member of the school's FFA chapter, drama club and science fair team. She also is a member of the Sunnyside Rotary swim team.
Hutchins owns 15 registered Jersey cattle, which she showcases at fairs. She has shown them at the Western National Jersey Show, as well. This coming summer she plans to attend the Jersey Youth Academy in Columbus, Ohio.
Hutchins delivered her candidate speech at last night's program, detailing the fact that the average Yakima Valley dairy farm has more than 1,300 cows. She broke the figures down, detailing the amount of milk that is produced on a daily basis, stating each cow produces approximately 170 gallons of milk per day.
"To produce that much milk, farmers make sure the cows are comfortable and happy," said Hutchins, noting farmers provide cushioned bedding for cows, work closely with veterinarians to ensure the health of the herd and comply with strict government regulations.
Hutchins was asked an impromptu question, "What message about the industry do you want the public to understand?"
She said she wants the public to understand that farmers "...constantly strive to produce milk and it doesn't come from the shelves."
2012-13 Washington State Dairy Ambassador Abby Lohman presented a brief statement regarding what she has been doing to promote the dairy industry statewide.
She told those gathered for Thursday evening's program that she has been visiting schools, teaching younger students about where milk comes from. She has been teaching older students about careers in the industry.
Lohman's goal is to earn a degree from Oregon State University that will provide her a career as an agriculture teacher.
Following the speeches, Boogerd presented Newhouse with the Friend of the Dairy Industry Award, stating he supported the industry while serving as a state representative and as the director of the WSDA. "He never forgot the dairy industry."
Newhouse said he was appreciative for the recognition. He said the dairy industry supported him while he worked in Olympia.
"It's important for people to understand where milk comes from," he said.
The Yakima Valley Dairy Women's Association also named its scholarship winners at last night's program. Christopher Newhouse is the recipient of a $1,000 scholarship provided by the Dairy Foundation. Kristen Wedam and Kevin DeJong will each receive a $500 Yakima Valley Dairy Women's Association Scholarship.