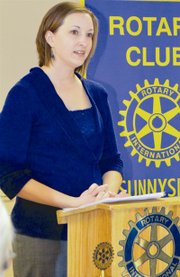 Last year staff at Life Options answered the call to do more.
Melanie Smeenk, centers director for the organization, this past Wednesday morning told members of Sunnyside's Daybreak Rotary Club what that means.
She said the staff had been praying, seeking ways to serve women, men and the youth in Yakima Valley.
"We heard 'More'," said Smeenk.
As a result, the organization sought ways to expand its services. It launched a new marketing strategy, using technology and expanded services in Grandview without changing locations.
Smeenk said God helped the organization to accomplish some of those achievements, opening the door to acquire a building directly next door to its Grandview site.
That expansion provided Life Options with the space necessary to provide medical services.
Smeenk said the Knights of Columbus stepped up and provided funding for a new ultrasound machine, as well as training for staff using the machine.
The old machine, she said, has been donated to a facility in Honduras at which Teresa and Dr. Benno Marx are currently serving as missionaries.
Mrs. Marx, said Smeenk, is familiar with the old ultrasound machine and her expertise is being used to train others to use it.
Smeenk said Life Options also needed to use technology in a wiser way to ensure more potential clients could learn about its services. A new campaign was launched and the organization sought to revamp its website to allow Life Options more visibility when individuals conducted website searches.
Smeenk said fewer people are using a phone book and more people rely on computers and smart phones to find services.
The newly revamped website also allows clients to make appointments online.
Also, the organization began advertising on a popular radio station. She said the radio station on which Life Options advertises is most popular among youth.
"We found and hired a fatherhood coordinator," said Smeenk, noting men who accompany the female clients served by Life Options are often as scared when facing fatherhood as the women are about motherhood.
Life Options, said Smeenk, continues to seek ways to meet the needs of the community, wanting to eliminate abortions in the Yakima Valley.
As a result, she said, the organization has set a goal of acquiring funding for a mobile unit. The purpose of the unit will be to visit communities where there is not a Life Options facility. The unit would be staffed with personnel that is able to provide educational information and ultrasounds to individuals not living in Grandview or Sunnyside, where the organization currently has offices.
Smeenk said providing educational information is important, especially when serving the youth.
"So often I think teens are hearing that safe sex is out there...they aren't hearing about protecting their hearts," she said.
That is the reason Life Options also provides services to youth, such as the Girls 180 and Guys 180 programs.
She said offering programs that help youngsters learn about relationships, character and sexual integrity can help youth.
"Our goal is to meet people where they live," said Smeenk, implying Life Options believes reaching out to others is about being involved and being accessible.