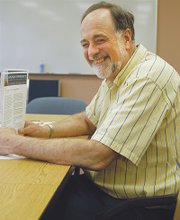 The Sunnyside School District is becoming known for its increase in graduation rates, but it's also producing a crop of strong leaders from the ranks of its teachers, some of whom will move on to create an impact in other districts around the state.
Part of the reason for the surge in teacher education in the district is a partnership with Gonzaga University that is helping local teachers earn a higher education.
At an informational meeting Thursday afternoon, Program Director Dr. Chuck Salina welcomed a dozen prospective students, most of whom wanted to earn a Master's degree or the state required ProTeach certification, along with a handful interested in starting a career path toward becoming principals.
The particular graduate program discussed will results in a Master of Arts in leadership and administration. A slightly more difficult path with more credits leads to both the degree and certification to become a principal.
Salina explained that students in the Gonzaga program will be able to do all the work locally.
"We come to you," he said. The program requires a set number of Sunnyside teachers to sign up as students, then the coursework is conducted locally and online.
The program also attempts to keep the material relevant to the work the teachers are already doing in their classrooms here in Sunnyside.
The results so far have been impressive, according to Salina.
"Principal candidates from Sunnyside are getting a lot of sniffs from districts around the state," he said.
Salina said he hopes the next program will start this fall. He needs 15 local teachers to sign up as a cohort to get the process going. He was encouraged by the turn out at yesterday's informational meeting.
A second informational meeting is scheduled for Thursday, May 2, for any other teachers in Sunnyside or in other districts interested in the program.
"It's a great program," said Salina. "It helps the teachers here become even better."