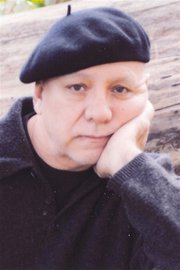 Those who have worked in a field in the cruel summer sun won't need to read much of the poetry in "Migrant Sun" before finding themselves transported back to the hard labor.
Those who have never been there will inhale their first lungful of choking dust and feel the first trickles of dirty sweat down their backs as they read the words of Ramón Ledesma, who describes his childhood as a migrant worker in imagery so evocative it pulls the reader into the experience.
Ledesma was born in Toppenish in the late 1940s and worked in fields all over the Pacific Northwest with his migrant family. The poems in the book focus mostly on those early years as seen through a child's eyes.
The book is illustrated with numerous photographs of Ledesma's family, including one that is accompanied by a poem, "The Photograph," that indicates the image was taken at the Sunnyside Cherry Blossom Festival.
Most of the poems generally have two focuses: family and work. The two are often closely intertwined and offer the reader a close look at what a migrant's life feels like.
In the poem "Water," the reader is stuck in the field, yearning for a drink available only at the end of a row of hard work. In "Muerte," Ledesma describes the death of one of his sisters. "I Meant to Ask You" is about his father.
Another theme of the book is alienation. Although Ledesma is an American, he's also a product of his parents' Mexican culture. One of the two prose pieces in the book, "Strawberry Fields and Airplanes," tells how the two became mutually exclusive in his mind. The final poem in the book, "But, I'm Not Mexican Anymore," also pays tribute to the feeling of losing his identity.
A good poet will spill a lot of his life into his poems. By the end of this book a reader will know a lot about Ledesma and his family. It's a journey worth taking.
"Migrant Sun" can be ordered from Village Books in Bellingham online at http://www.villagebooks.com/book/9780615756530 or by calling 360-671-2626.