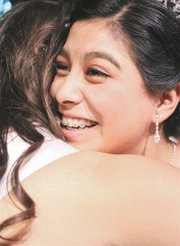 GRANDVIEW - It was so quiet you could've heard a pin drop in the Grandview Middle School gym last Saturday night. The silence was in anticipation of who would be crowned the new Miss Grandview.
As the two princesses were crowned, Jocelyn Baca and Wendy Magana, it may have seemed like hours for the rest of the contestants, who waited to hear who was next to wear the queen's crown.
Contestant Analilia Granados, to her complete surprise, was given the 2013-14 Miss Grandview crown. Granados was also lauded for giving the best interview and earned the Spirit of Miss Grandview Award for best representing her community.
Many in the crowd mumbled their guesses of who would earn each prize as the contestants were awarded for category bests, including the poise award, which was given to both Magana and Jaqueline Orduno.
Earning the best talent award was also Magana, who says she wanted to take back the negative outlook on spray-paint art. As she filled the gym with fumes from the paint, Magana had just 90 seconds to create her artwork, and did so in record fashion.
Orduno was also given the fitness award last Saturday night along with Baca, who received the scholastics award for having a high GPA and taking academically tough classes.
The night wasn't over, however, as contestant Emily Contreras was named the 'be your best self' winner.
It was a night of tears, too, with goodbyes, new beginnings and the crowning of the 2013-14 Miss Grandview Court.
As the team of royal hopefuls prepared for the evening that decided their crowning fates, they also prepared to say goodbye to Cookie Shannon, who has organized the program for several years, and whose name has become synonymous with the Miss Grandview Program.
At Friday's 37th annual pageant, Shannon announced her retirement from the program, saying also that she'll be moving soon and passing the Miss Grandview reins to Andrea Hendrickson.
"It's hard to say goodbye, I'm leaving behind so many wonderful friends," Shannon said in her goodbye speech.
After the heartfelt speech given by Shannon and a standing ovation by the crowd, she announced the winner of the Friend of Miss Grandview Award, given this year to soon-to-be-retired teacher Melanie Manship. The crowd again stood to its feet in support and thanks to Manship for supporting the Miss Grandview Program.