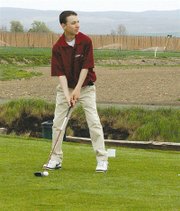 Chandler Luther of Sunnyside and Hannah Pond of Grandview bested their respective fields at a three-school, non-league match staged at Black Rock Creek Golf Course last Friday afternoon.
Luther toured the 18-hole Sunnyside-area course with a 9-over-par 81, eight shots better than the next lowest scores posted by the boys from Sunnyside, Grandview and Wahluke high schools. The second-low rounds in the boys field, a pair of 89's, came from Grizzly teammates Nathan Meyer and Ian Heffron.
Pond won medalist honors on the girls side, carding a 123. She finished six strokes better than Lady Greyhound teammate Teagan Parrish, the second low scorer with a 129.
None of the three girls teams last Friday were able to field a full four-person squad, which made team scoring a moot point.
Pond, in posting the low individual round among the girls, set the pace with a very decent 57 on the front nine. She closed with a 66 on the back side for a 123.
Parrish, the second low scorer in the girls field, went 62-67 (129) on the two nines. Grandview also got a 140 (71-69) from Reagan Colson.
Sunnyside's two female golfers - Ashley Davis and Jacquie Kranz - had rounds of 135 and 167, respectively. Davis was consistent throughout, tallying front and back nine scores of 67-68. Kranz shot an 85 on the opening nine, shaving three strokes off that total with an 82 on the back side.
Wahluke's girls team was represented by Lizbeth Plaza (75-79 - 154) and Maria Cardoso (80-77 - 157).
In the boys team scoring race last Friday, Sunnyside was heads-and-shoulders above the two other squads. The Grizzlies tallied a 349, which was 103 strokes under the pair of 452 team scores that both Grandview and Wahluke totaled.
Luther, the medalist, led Sunnyside with front and back side scores of 42-39.
In posting rounds of 89 for the Grizzlies, Meyer went 43-46 on the two nines and Heffron cruised with front and back side scores of 44-45. Brandon Daley rounded out the scoring for the Sunnyside boys squad with a 90 (42-48).
Grandview's low scorer, the lone Greyhound to shoot a sub-100 round, was Justin Murbach. He, for the most part, played bogey golf, posting a 45 before the clubhouse turn and taking a 47 on the closing nine holes. Murbach did, however, knock down two birdies on the day.
Grandview's other individual rounds included a 107 by Dylan Parker (54-53), a 125 by Adam Fleming (67-58) and a 128 by Henry Pond (63-65).
Wahluke was led by Collin Ahmann. He put up front and back nine scores of 48-46 for a 94. Also competing for the Warriors were Steve Martinez (53-48 - 101), Juan Lopez (66-55 - 121) and Felix Jimenez (64-72 - 136).
Mabton's one and only golfer this spring, Josh Rodriguez, also competed last Friday. He was on his mark on the opening nine, carding a 51, but ballooned to a 65 down the stretch.