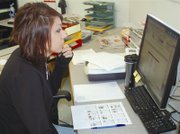 Training in the software programs PhotoShop and InDesign helped direct Ileana Martinez on her career path in helping with page lay-out and production for the
Daily Sun News.
She received that training while still a student at Sunnyside High School.
Martinez said it all started with her love of photography, whether it was snapping pictures at football games or in the school halls.
When asked to help out with the SHS yearbook, Martinez jumped at the chance and ended up spending a year as the yearbook director. It was during that time when the 2010 SHS grad began studying and working with PhotoShop and InDesign.
She followed that by completing a program at YVCC in computer and software skills.
It all led to her hire about a month ago to work at the
Daily Sun News'
production department.
Her work at the paper includes designing ads to meet customer specifications.
In addition, she designs some of the pages that appear in each day's paper.
"It's like playing Tetris," Martinez says of placing ads and news copy onto a page. "You have to get everything to fit perfectly. "
As a result, she says the best quality a person can have if they are going to get involved in newspaper layout and production comes down to one word - patience. "You have to constantly think about where you're putting things on the page."
Martinez says at some point in the future she might try her hand at shooting pictures in her free time, such as this fall when her younger brother at SHS plays in the school band.
For now, she's focused on the Tetris-like efforts of putting just the right stories and ads in just the right places to create pages.
Martinez says she likes to see the finished product, as does her family, who she says each day ask her about which ads and pages she created.
She, too, takes pride in seeing her work on the printed page.
"I love my job," Martinez smiles. "When they hand me a piece of paper full of information and tell me to be creative, I like doing that."