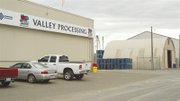 A once-every-generation development tops new projects permitted in the city of Sunnyside last month.
That's because Valley Processing in Sunnyside received the green-light from city officials in March to install a new juice processing facility at its plant on East Blaine Avenue. It has a valuation of $609,525.
"It replaces a juice processor originally from 1987," says Terry Bliesner, the company's vice president. "It's time."
Bliesner says the facility will occupy a 17,000 square-foot building and technical advancements mean the new processor will enhance Valley Processing's operations here in Sunnyside. He noted the old processing facility could only process apples, while the new one can process all fruits. "It adds more flexibility," he says.
City officials issued 37 permits last month, ranging from plumbing to demolition. They have a combined valuation of $1.08 million and generated $14,679 in fees for Sunnyside city coffers.
Other notable projects greenlighted last month include a new two-story home in the 1300 block of Grape Lane valued at $228,769 and water service infrastructure and installation in the 500 block of Midvale Road valued at $176,826.
Year-to-date for 2013, Sunnyside officials have issued 92 permits related to building projects with a combined valuation of $1.7 million.
The city of Sunnyside has also received $31,145 in fees for projects receiving permits through the first quarter of 2013.