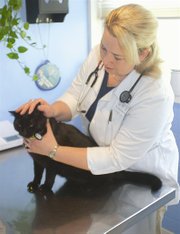 The Pet Health Clinic of Sunnyside recently added a third veterinarian to its practice, Dr. Sharon Molton, DVM.
Molton, who came here from a practice in Puyallup, has been a veterinarian for the past 13 years since completing her studies at WSU.
A native of the Tri-Cities, Molton says she grew up around animals and knew early on she wanted to be a veterinarian. In fact, even as a middle school student she helped out at a local pet clinic and later conducted job shadows.
"I knew this clinic has a reputation for practicing great medicine. It's a clinic that treats pets as if they were my own," Molton says of her move to Sunnyside and a return to her roots in the Columbia Basin.
She says some of the most intriguing cases she helps pets with include internal medicine issues such as problems with kidney disease or diabetes in animals.
With spring having arrived in the Yakima Valley, Molton says now is a time for pet owners to take preventative measures against disease, as well as fleas and ticks.
She notes more animals are getting lost or hit by motor vehicles with the arrival of warmer weather. As a result, her advice is to keep animals on leash or fenced areas and to make sure tags or a chip are located on the pet so it can be returned to the owner if lost.
After more than a decade in the vet trade, Molton stays energized in her occupation.
"You can really feel like you're making a difference in the lives of the pets and people," she says.
Speaking of pets, Molton has both cats and dogs as pets.
She smiles and says she can't say whether she's a "cat" or "dog" person.
"That's like asking who is your favorite child," Molton laughs.