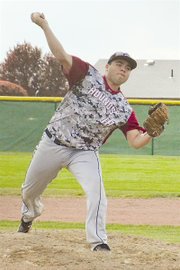 GRANDVIEW - Having lost seven games in a row, counting last night's 11-1 defeat to Ellensburg, Grandview has yet to find its rhythm.
Ellensburg struck out seven Grandview batters. The Greyhounds had a total of 16 at bats, and Derek Swearingen was the lone Grandview batter to connect with the ball. He slapped a run-scoring double in the fourth inning. Erik Sauve, who was on base after being walked, scored the run.
Greyhound Coach Matt McKinstry said, "The boys played a much better game defensively."
He noted there were, however, 15 Ellensburg batters walked.
"Offensively, we were aggressive at the plate, but hit a lot of balls right to people," McKinstry said, noting the batters were unable to take bases because Ellensburg's defense was on top of the ball.
Martin Sanchez started the game for Grandview atop the mound, allowing 10 Bulldogs to walk. He had four Ks and allowed 10 runs.
Relief pitcher Anthony Ramirez took the mound in the third inning. Two Ellensburg batters connected for hits and five walked. Ramirez recorded one strikeout.
Grandview (2-9, 3-10) will travel to Ephrata this coming Saturday for a doubleheader.