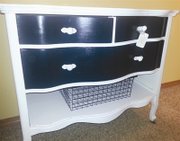 GRANGER - The 11th annual Granger Athletic Booster Club Auction and BBQ is set for this coming Sunday, April 21.
The event will be held at Granger High School, 315 Mentzer St., and begins at noon with the barbecue. At 1 p.m. a live auction will be conducted and it is open to the public.
Items donated for this year's live auction include a half beef cut and wrapped, homemade pie of the month for one year and a load of gravel.
Also set for the bidder's gavel are four tickets to a Tri-City Americans hockey game, as well as an antique dresser and a fall hayride for up to eight people.
Other auction items range from sports memorabilia to baby blankets to gift certificates at several Yakima Valley stores and restaurants.
All funds raised this coming Sunday will be used to benefit Granger High School's athletic programs. Last year's auction and barbecue, for example, paid for a scorer's table in the high school gym, a tennis ball machine, glass basketball backboards and four scholarships awarded to Granger High School student athletes.
Marilyn Slagg is chair of the booster club, and notes that all donations are tax-deductible.
For more information or to donate items for this Sunday's live auction, contact Slagg at 830-2861.