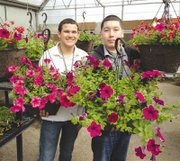 MABTON - Spring has sprung and that means it is again time for the annual Mabton FFA plant sale.
Students with the Mabton agricultural program have worked hard to learn proper propagation techniques in order to produce more flowers and vegetables this year.
Students from the middle school enrolled in the exploratory agricultural class and high school students that are enrolled in the horticulture class have put in countless hours of preparation for the coming sale.
They have worked tirelessly to produce a multitude of vegetable and flowering plants ready for the sale which is slated for Friday, April 26, through Sunday, April 28.
"It's pretty cool to see that all the work we've put in planting paid off. We are now getting to see all the flowers we've planted in bloom", said Cristina Espinoza, Mabton High School horticulture student.
With help from fellow students, Mabton FFA members have been putting in the time and effort to properly nurture the vegetation with the assistance of Randi Krieg, agri-science teacher and Mabton FFA Adviser, and Daniece Roettger, a community volunteer.
Some of the more popular varieties of flowers grown by the students include geraniums and petunias.
"We are also growing some more vegetables," shared Joel Chavez, a fellow student.
Tomatoes, bell peppers and hot peppers will also be available for purchase at the plant sale.
"The students grew the vegetables from seeds," said Krieg. "The benefit of this process allowed them to learn about germination."
Proceeds from the plant sale will benefit Mabton FFA activities. Most of the monies earned by fundraisers go towards registration fees for the state FFA convention in Pullman and national FFA convention in Indianapolis, Ind.
"We will have 18 students competing this May in Pullman and eight members attending nationals in October," said Mabton FFA Vice-President Ty Leyendekker.
Offered at the annual plant sale will be six-cell packs of petunias, lobelia and portulaca for $3; four-inch petunias, lobelia, bacopa, millions bells, verbena, osteo, creeping charlie, dracaena spikes, potato vine, bidens, argyrauthemum and geraniums for $1.50; two-inch vegetables for 50¢; six-cell packs of vegetables for $2; 12-inch mixed annual hanging baskets for $17; and 10-inch ivy geranium hanging baskets for $15.
The sale will be held at the Mabton High School greenhouse across from the Blue Sky Market from 7 a.m. to 3 p.m. on Friday, 7 a.m. to noon on Saturday, and 9 a.m. to 2 p.m. on Sunday (April 26, 27 and 28).