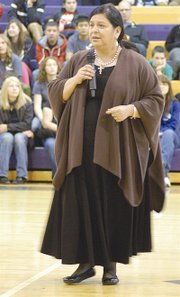 MABTON - Consuelo Kickbusch opened her speech to AVID students gathered at Mabton High School this past Wednesday by dedicating the presentation to her parents, Consuelo and Pedro Castillo.
She told the students, gathered from six school districts, that her parents had been her role models. She also said they had secrets, and one of the secrets was that her mother suffered from depression.
"She got no help for her depression until she was 60 years old," said Kickbusch. "And the only reason she was able to do that was because I had a college degree."
AVID, which stands for Advancement Via Individual Determination, is designed to push middle-of-the-road students towards a greater level of success in school, and in life. The Mabton AVID program hosted the conference of AVID students from districts around the area.
Kickbusch gave a speech made up of many different stories, some very amusing and others heartbreaking. Her stories were sprinkled with Spanish, speaking directly to many of the bilingual students in the crowd.
"I tell you these stories so you'll remember the lessons," she said.
In a story about respect, she told about two boys who were at one of her presentations. She described them as slouching. She began imitating the boys' behavior, causing many in the crowd to laugh at her antics.
The story turned touching, though, as Kickbusch explained how she got one of the boys to admit that his mother had purchased his clothes for him. She then had the mother come forward and tell her story of the sacrifice she had to go through to get the boy the shoes he wanted in exchange for promising not to drop out of school.
Kickbusch asked the students at yesterday's assembly if they knew what their parents did for them. She pulled a Mabton youngster out of the crowd to talk about what his parents had sacrificed to give him a chance at a higher education.
Another story that had the high school students laughing was her own tale of being in high school. Kickbusch was shy and embarrassed and she wore old clothing, but she fell for a football player and went to a cheerleader for advice. Her attitude changed and the mood grew serious as she related the bullying she endured.
She asked the group to raise their hands if they knew someone who was being bullied. A majority of the hands in the gymnasium went up.
Kickbusch also talked about gratitude and how her mother literally worked herself into osteoporosis to raise her children. She asked a student to come up and look in his wallet. She told the teen that she was looking for $250,000. She said that was the cost to raise one child to adulthood.
She urged all those present to think about that and to make sure to wait to have children of their own until they are ready to be responsible from start to finish. She then told a story of a girl who had attended one of her speeches, but had gotten pregnant and had a baby boy. The girl called Kickbusch from jail to ask for help, because she had no one else to turn to. It turned out the baby had died from negligence, and the girl was the prime suspect.
"I know, to you each love seems like it's forever," Kickbusch said. "But it's not forever."
She said the girl is now serving a prison term for the death of the child.
In the silence that followed that statement, she told the group that her parents had a combined income of $400 a month.
"But we never went hungry," she said. "We never thought of ourselves as poor."
She said her parents had lived in a boxcar settlement, and told the students to do an internet search on it, because it isn't something that gets into history books. Her mother had insisted on putting up curtains, despite not having any windows.
When asked why, her mother said she wanted something bigger and better for her children. She wanted them to see more than just a steel wall, but to be able to envision the window behind it.
"When you get your own vision, no matter what walls are in the way, you can succeed," she said.
She finished her speech with a story about her father's attempts to save enough money to buy a dishwasher, and how after two years of saving he didn't have nearly enough.
"When you don't finish high school, people will put a price on your head," she said. "It won't be enough, it won't be what you are worth."
After the speech, students took a break for lunch and many crowded around Kickbusch to talk with her and get a hug.
"I really enjoyed it," said Anahi Razo from Grandview High School. "It was inspiring."
Damian Torres from Moses Lake simply said the speech was "pretty dope."
A Mabton student, Naomi Galarza, said she was touched by the speech.
"You can relate to her," she said. "She has been there."