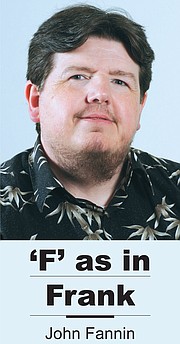 My favorite sports column is Peter King's "Monday Morning Quarterback," which covers all things related to the NFL and beyond.
Each week's column has a segment called "Ten Things I Think I Think," basically his ramblings on items that may or not be related to football.
With a nod to King, I'm in kind of a potpourri mood myself today, so this column is a Friday five...as in five things percolating in my head over the past week or so.
As we did last week with Sunnyside School District employees, maybe it's time again to look at the salaries for Sunnyside police officers. On Oct. 27, 2008 we ran a complete list of city employees by name, job title and salary.
I'm thinking maybe it's time to update that list for the police department since apparently an average salary of $55,000 (as of nearly five years ago) isn't enough income in a county where the average annual income is $32,300 (as of 2011). That's because five officers in our employ feel the need to be paid to drive to and from work.
CNN is getting all kinds of guff these days - and rightly so - for going on the air and saying a suspect in the Boston bombing was in custody, then having to backtrack when "unnamed sources" proved unreliable. Go figure. Yet, I've got to give kudos to media on the ground at Boston. Among the footage I saw was a photographer putting down his camera to go help at the bombing scene.
Kudos also to the Boston Globe - yes, an old-fashioned print newspaper - for recording the first and best video coverage of the explosion. It's no doubt a help to investigators as they try to find the real culprit.
For all the horrific injuries inflicted Monday, it could have been much worse but for quick-thinking medical staff on the ground who in a moment's notice had to switch from treating running blisters to a tragic war-like scene.
Nice to see the return of spring. This week Joni and I went out to the local golf course, borrowed a set of clubs and bought a bucket of balls for the driving range. Nice friendly folks and a beaut of a day to boot. It's been years and years since we went to a driving range and we had a blast this week...even if she did get off some better drives than me.
That's it for this week, hope this Friday five finds you enjoying a fine weekend.
More like this story