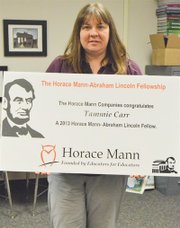 GRANDVIEW - In a few short months Grandview Middle School history teacher Tammie Carr will get to experience history as she has wanted for several years.
She enjoys strolling through historic places, viewing documents and artifacts from the past. For that reason, she has had a desire to visit Springfield, Ill. for many years.
That opportunity has come to her thanks to Horace Mann Insurance, which has awarded her a Horace Mann-Abraham Lincoln Fellowship.
Carr will be among 50 educators from across the U.S. spending a week in the former president's hometown. They will have access to the Abraham Lincoln Presidential Library, where they will get to view documents the general public does not get to see.
"I will get to collaborate with other teachers and develop lesson plans," said Carr.
She said she is looking forward to visiting one of Lincoln's homes, his law office and other historic sites while in Illinois.
The five-day event will provide Carr with a first-hand look at history.
"It's all expenses paid," she noted, stating it's a unique experience for her.
Carr said she would not have a behind-the-scenes look at some of the documents and artifacts if she were to plan the trip herself.
"I love to learn more," she said.
As for what she believes she will take away from the experience this coming July, Carr believes she will be able to make history real for her students.
"I believe I will have some great lesson plans," she said, noting she is excited about the opportunity.
Carr was nominated by Grandview Horace Mann Insurance Agent Pam Horner, who said, "I spoke with students and teachers in Grandview, seeking a worthy history teacher. Tammie's name was mentioned."
She said she believes Carr is in for an experience to be remembered for a lifetime.
Carr agrees, stating, "I had no idea I was nominated until I got the call, but this is something I am really looking forward to."