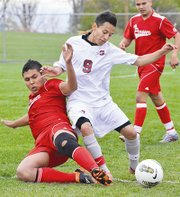 GRANDVIEW - The Grandview soccer team is experiencing a winning season with nine overall wins, five of them in CWAC league play.
Last night, the 'Hounds defeated CWAC foe Prosser by a 1-0 score.
Grandview is No. 1 in the CWAC, with Toppenish a match back. Last year the team had a 6-3 league record, 7-8-1 overall.
The team is on track for the 2013 playoffs with just four matches left this season.
Last night Grandview dictated the terms of the match against the Mustangs. Ismael Montes scored an early goal at the six-minute mark off a cross from Victor Valencia.
It would prove to be the only goal of the match, but it was enough for the 'Hounds to secure the win.
"Though the 'Hounds didn't score again, they threatened to on many occasions," said Grandview Coach Anne Holden, noting her team had nine shots on goal.
Prosser threatened Grandview keeper Jose Pacheco just two times.
"We made the game more difficult for ourselves than we needed to," said Holden, stating the Greyhounds were thorough and precise in the opening half of the match.
However, Grandview settled some in the closing half.
"We played well within ourselves," Holden said of the second half of the match. She felt the team didn't play to its capabilities, but Grandview held Prosser off and kept the Mustangs from scoring.
"We did enough to get the win, and at the end of the day that is always the objective," she said.
The Greyhounds (5-1, 9-2) will tomorrow (Saturday) host Othello for a league match. Earlier this season the teams faced one another in a non-league dual that ended with a 3-2 Grandview victory in overtime.