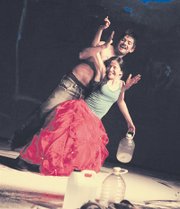 TIETON - Boom Arts of Portland, Ore. and OntheBoards.tv of Seattle, in partnership with arts centers throughout the region, is bringing Teatro Línea de Sombra's beautiful, poignant, timely theatre work
Amarillo,
in a high-definition filmed version, to Tieton on Friday, May 10.
Created by the acclaimed Mexican theatre troupe Teatro Línea de Sombra,
Amarillo
uses contemporary visual and multimedia theatre to evoke the hope and despair experienced by Mexican and Central American migrants attempting to cross the U.S./Mexico border.
Amarillo,
with its universal themes and compelling imagery, has toured throughout the U.S. and around the world. The film resonates with audiences of all languages and backgrounds. The piece expands the collective conversation about immigration and border issues with a poetic Mexican perspective.
The performances of
Amarillo
were filmed with live audiences Nov. 8-11, 2012 at On the Boards in Seattle during part of its U.S. tour.
The show, called "stunning, vital, unforgettable" by the
Seattle Times,
was then edited in conjunction with Thinklab Inc. and the artists to create a filmed version that best represented the original performance.
Between April and June 2013, OntheBoards.tv and Boom Arts will expand the Pacific Northwest audience for
Amarillo
by screening an HD film of the piece in five regional communities, including Tieton.
Each screening will be hosted by and co-curated with a local arts partner and will include a bilingual discussion and Q & A featuring local scholars and community leaders.
Sylvia Imbrock, representative for Mighty Tieton, said entry to the event is free, but donations will be accepted.
Tieton Arts & Humanities is hosting the special May 10 screening at the Mighty Tieton Warehouse at 6:30 p.m.
Doors open at 6 p.m. and a taco truck will be on site for those seeking food and refreshments.
Paul Apostolidis, professor and chair of political science at Whitman College, will also be present for a featured discussion at the event. Apostolidis is the author of
Breaks in the Chain: What Immigrant Workers Can Teach America About Democracy.
A reception that will include entertainment provided by the Seattle Fandango Project will follow.