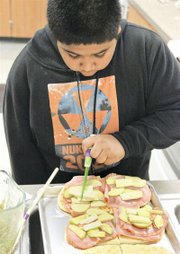 It was up to the judges, and their taste buds, at yesterday's Teen Battle Chef Contest held at Sunnyside's Sierra Vista Middle School.
The students participating in the 21st Century after-school program have been given the chance to learn the ins and outs of planning a nutritious meal.
During the battle the teens were broken into two teams and each team created a three-course meal that adhered to a specific theme.
The first team, which ended up winning the contest by just one point, served Mexican delicacies starting with a "ceviche" (seafood salsa) appetizer, "sopes," a special dough topped with meat, beans and spices, as the main course and their own rendition of fried ice cream for dessert.
The second team served Italian foods, starting with a pizza cupcake and an Italian sandwich. The main course was a spinach lasagna roll, followed by a soft Italian cookie.
For the past eight weeks the students have been learning about nutrition, how to plan a meal and how to polish their public speaking skills.
The two-month course has been in preparation for the final battle against other Lower Valley teens that have been doing the same. The contest is set for May 6 at YV-Tech in Yakima. The students will put their kitchen and public speaking skills to the test against teams from Toppenish, Wapato and White Swan.
Sunnyside Chef Roger Hazzard has been working with the Sunnyside students, too, and is slated to emcee the event in May.