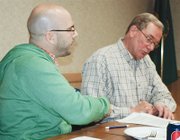 Business is on the grow for the Fastenal store in Sunnyside and in June it will move down the street to a new location here.
That's the result of a lease signed by Port of Sunnyside commissioners in a special meeting held last Friday.
Under terms of the deal, Fastenal will at the end of June move its local operations from a store front on East Edison Avenue, across from Sunnyside High School, to the port's office building (formerly the Horizon building) a few blocks down the road.
Fastenal, which manufactures and sells fasteners, tools and other equipment, is headquartered in Pasco and expanded to Sunnyside in July 2006.
"Things are going well, the guys at the store are gaining more business on a regular basis," says Wayne Ryberg, a district manager for Fastenal.
Ryberg noted the port's location is an area seeing growth and provides an option to expand operations in the future.
Indeed, the port's offices and Golob Landing development in recent years has expanded to house a driving school, a YV-Tech program, a beauty school, as well as a medical clinic nearby.
"It's a new area that's developing more," says Ryberg.
The five-year lease calls for Fastenal to rent a 2,950 square-foot warehouse and office space for $1,770 per month. In the future, the company will have an option to rent an additional 1,650 square feet once YV-Tech moves in about eight months from the port facility to a building to be constructed nearby. If Fastenal takes on the additional space, it's monthly lease will increase by about $1,000.
Ryberg says there's a good chance Fastenal will take the Port up on its offer to expand.
"In a general sense the economy seems to be turning around up there," he says.