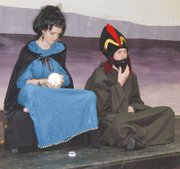 Street-smart Aladdin and his goofy monkey may be familiar to modern audiences through the Disney movie, but the version of the tale being presented by Sunnyside Christian High School is both far more traditional and considerably sillier.
This version gives audiences double the genies and double the monkeys as young Aladdin learns about the magic of the lamp and ring left to him by his father, thanks to the scheming of the evil Zorah.
Tim Foster plays the lead role of Aladdin. A master of expression, Foster's lanky frame may seem a little large for a street thief, but he is sure to be a crowd-pleaser.
Josh Stein plays Aladdin's faithful monkey Abu. Emily Werkhoven stars as Aladdin's mother while Kate Newhouse takes the role of sorceress Darkana. Tad Tyhuis plays the evil Zorah and Betsy Knotts is the princess.
The play will be presented to the public for three nights in a row starting Thursday, April 25, at 7 p.m. at Sunnyside Christian Elementary School. Admission is $5 for adults and $3 for children. A special performance for Sunnyside Christian Elementary School students will be staged during school on Wednesday, April 24.