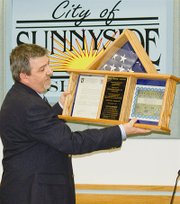 The Sunnyside City Council dedicated a flag donated to the city during a special ceremony at Monday night's regularly scheduled meeting.
The flag was sent to the city a couple of years ago from a war zone in Afghanistan by Sgt. First Class Francisco Gomez Jr. with the 101st Airborne Division. It had been flown over a critical area in the war zone in a place where the U.S. flag had never been flown before.
Gomez, a member of Delta Company, Task Force Mad Dog, first battalion, 327th infantry, is a Sunnyside native. He donated the flag to his hometown after being part of a crucial mission during Operation Enduring Freedom.
At Outpost Michigan, the American soldiers were constantly tested by insurgents, but managed to fly 148 flags in the months they were at the location through Operation Symbol of Excellence.
The flag donated to Sunnyside was flown over the outpost on Feb. 13, 2011. The flag was raised, flown and lowered with all honors on the field of battle.
The city has built a shadowbox to hold the flag and will display it in the council chambers at the Law and Justice Center.
The mother of Gomez was in attendance at the meeting, and thanked the city for accepting the flag and thanked City Clerk Delilah Saenz for making the display of the flag possible.
Mayor Jim Restucci read a proclamation about the history of the flag and dedicated it. Members of the Sunnyside VFW presented the colors during the ceremony.