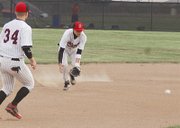 After lead-off batter Miguel Mendez coaxed a first-inning walk on five pitches, Sunnyside's baseball team couldn't get another runner on base in yesterday's 10-0 loss to visiting Wenatchee.
In fact, Wenatchee pitching faced the minimum of 18 batters in Tuesday's six-inning victory after the Grizzly batter following Mendez hit into a double play.
The contest was shortened due to the 10-run mercy rule.
While the Panthers worked their no-no magic against Sunnyside hitters, Grizzly pitcher Trey Serl surrendered only three runs in six innings of work.
Sunnyside's undoing proved to be in the field, where five errors led to seven unearned runs for Wenatchee.
The contest was actually scoreless through the first two innings, before the Panthers erupted for four runs each in the third and fourth frames to pull away with the win.
Sunnyside Coach Terry Shines said Serl did a good job of coaxing fly balls and grounders, but in the field he noted the Grizzlies committed all five of their errors on ground balls.
"We've got to play cleaner with our defense," he said. Of Sunnyside's 18-up, 18-down day at the plate, Shines said the Grizzlies have to do a better job of swinging the bat - especially with nine of those outs set down on strikes.
Sunnyside (0-10, 2-13) will soon get a second shot at the Panthers when the Grizzlies travel to Wenatchee this coming Friday for a doubleheader.