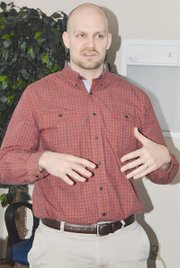 Describing the experience as the opportunity of a lifetime, Sunnyside High School science teacher Tyler Rice last week told Sunnyside Daybreak Rotary Club members about his time in an F-18 Hornet with a Blue Angels Navy pilot.
Rice was one of three Washington state residents selected for the adventure last summer.
The U.S. Navy, he said, selects two key influencers for the experience, which takes place during Seattle's SeaFair celebrations.
After learning Rice was the recipient of an AMGEN award, a recruiter for the Blue Angels flying experience called Rice.
"I thought I was being scammed," Rice said.
For his family, he said, the opportunity is a big deal because several members are pilots.
After learning the opportunity was not some hoax, Rice found, "They don't pull any punches."
He said the recruiter that contacted him told him flying in an F-18 is strenuous and the experience was going to be intense.
Rice said he had to undergo a physical exam and he had to train for the flight. He had to lose approximately 60 pounds of weight to meet the 235-pound weight limit.
"I did it by eating right and exercising," Rice said.
Doing all that was required of him prevented him from getting ill and from passing out mid-flight. Also helping him to stay alert during the flight was practicing special breathing techniques taught to him by the pilot.
Rice said he climbed aboard the jet on Boeing field and the flight path took him over the Olympic mountains. The pilot exercised a number of maneuvers during the flight that subjected him to more than six Gs (six times the speed of sound).
He said the pilot subjected him to a G awareness maneuver, a barrel roll, an aileron roll, a wing over, a loop, a simulated high performance take-off and inverted flying.
"The opportunity doesn't come around for everyone," said Rice, stating flights like his have been canceled due to the U.S. government's sequestration measures.
He said the experience is one he will cherish for a lifetime.