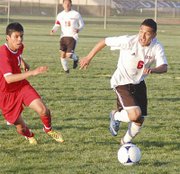 Sitting in first place in the CBBN and ranked among the top five in the state among 4A soccer teams, Eastmont rolled into Sunnyside last night and had to battle its way to a 4-1 victory.
Tuesday night's match was closer than the score appears.
The Wildcats struck for a goal in just the second minute of play when they picked up a carom off of a shot attempt and put the ball in the back of Sunnyside's net. "It didn't get cleared and they hammered it from the corner," said Sunnyside Coach David Guevera, who shares head coaching responsibilities with Sergio Licona.
The Grizzlies answered just five minutes later with a blistering shot on a corner kick. Sunnyside's Enrique De La Cruz put the ball in play and directed it towards teammate Jacob Meza, who scored the goal when his shot slipped through the Eastmont keeper's grasp.
The score remained knotted at 1-1 through the rest of the first half, but a play near the break proved pivotal.
It occurred in the 40th minute when Grizzly keeper Max Ramos attempted to clear a ball from in front of the goal and was clipped from underneath. The resulting spill injured his knee.
Ramos had to sit out the first 15 minutes of the second half to nurse the injury. During that time, Eastmont struck for two goals to go up 3-1.
To be fair, Ramos' replacement - Jorge Villegas - was playing with an injured knee and a bum shoulder. In addition, a JV keeper Guevara considered bringing up to help out had rolled his ankle in the JV match and was unavailable last night.
"It started to rain a little bit and then it poured," Guevara said of the injury bug striking his keepers. "We're running on fumes right now."
Ramos felt healthy enough to play the last 25 minutes of the match, but his injured knee buckled in the final minute of play and Eastmont took advantage to notch its fourth goal of the night.
Guevara noted that not only are the Grizzlies short on keepers, but at other positions on the pitch as six or seven varsity players are out either due to injury or disciplinary reasons.
"The boys are playing hard, they have yet to give up on each other," he said. "The kids are a little heartbroken, but they're trying their best and that's all you can ask for."
Sunnyside was only outshot 12-to-9 last night and was competitive with one of the state's best 4A programs.
"It gives us an understanding that if we can play with them, then we'll be able to make a little noise when we play 3A teams," Guevara said.
Sunnyside (2-5, 5-8) plays at Eisenhower this coming Friday.
Until then, Guevara's hoping for some healing among his keepers.
"We're giving them a recovery day or two to rest and ice up," the coach said.