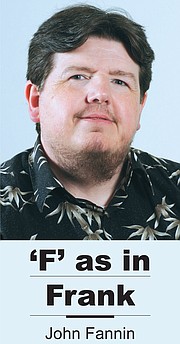 Our screen door is no more.
For about five months each year Joni and I spend a good amount of time outdoors on our covered patio during the pleasant weather. We especially enjoy it during the cooler summer mornings and evenings here in the valley.
We read, talk, barbecue, play with the dog or sometimes just admire the season's colors and bird songs.
Only problem is we have to open and close the screen door every time we go in and out of the house. That's not a big deal, except when your hands are full with dinner fixin's or tableware. That means setting the stuff down, opening the door, setting it down again and closing the door.
Recently I picked up one of those "as seen on TV" gadgets that is basically two screens with magnets down the middle. You just walk through it and the screens close behind you.
We love it! You really do just walk through the screens and the magnets snap them back together. It feels kind of like walking through those beaded curtains so popular in the 70s, except this is a tighter enclosure intended to keep flies out of the house.
Our dog Bessie isn't wild about the new screens, but she's learning pretty quickly to poke her head in and walk through them.
Now, the screen door - which had the annoying habit of occasionally falling off its track during heavy use in the spring and summer - just sits on the sidelines, gathering dust.
All in all, we're enjoying our snappy start to spring thanks to our magnetized screens.