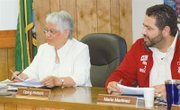 MABTON- In an effort to protect its assets, Mabton City Council has been investigating areas where security cameras might be installed throughout the community.
During Tuesday night's regular council meeting the safety committee, chaired by Councilman Mario Martinez, gave its initial report.
"We thought there might only be 17 locations where the areas where cameras might be located," said Councilman Martinez.
However, during the course of his survey of city assets, his committee has determined there are 20 locations where security cameras should be mounted.
Martinez said among those areas which should be monitored are the planed new wastewater treatment plant, the city cemetery, all the city parks, all of the city's water facilities, as well as city hall, the police department and city library, civic center and the sewer plant.
"We have been working with Yakima County to determine the type of security system that will work for our purposes," Martinez said.
The city council plans to use funds from reserve accounts which fund the various departments in order to fund a portion of the safety project cost. Martinez said at this point the exact cost has not yet been determined.