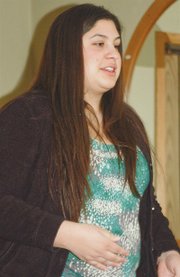 Jayleen Leon got more than she bargained for when attending a recent Key Club convention at SeaTac.
That's because the Sunnyside High School sophomore was appointed lieutenant governor for Key Club's Division 50, encompassing a region that stretches from Cle Elum to Prosser.
The division's outgoing lieutenant governor did not have an officer to replace her, so during the convention Key Club members in attendance were asked if any had an interest in the title.
Leon and two Ellensburg students raised their hands and, after an interview process, Leon was appointed to the post.
This morning, Wednesday, she spoke at the Sunnyside Kiwanis Club's breakfast meeting about her new office.
Kiwanis is the sponsoring organization for Key Club, and Leon later noted that she decided to seek the lieutenant governor's post because the local chapter needed a spark.
That was echoed during the breakfast meeting, when Key Club Advisor Gabe Darbyson noted that at one point last year discouraged SHS Key Club members considered disbanding its organization.
"We needed a re-boost," Leon says. "And it's a good learning experience for me."
She's already off and running in fulfilling her new duties, such as visiting all seven Key Clubs in the region at least twice.
In addition, she has to make sure a monthly newsletter is published for Division 50. "I like writing," she smiles.
After her presentation, Leon had questions for the sponsoring Kiwanis Club about re-establishing some traditions at the Sunnyside High chapter. Those include an installation ceremony for new SHS chapter officers, pins for SHS Key Club officers and a breakfast for SHS seniors.
Also during the meeting, Kiwanis Club members discussed the idea of having a club representative accompany Leon when she makes her appearances at Key Clubs in the region.