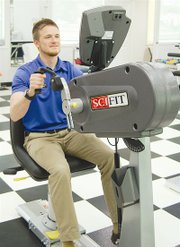 Dustin Sloan trailed his girlfriend, a music teacher, to Sunnyside from Iowa and found he enjoys the outdoor activities that Washington provides.
Trail running, in particular, is a favorite pastime of his.
Raised in Pella, Iowa, he graduated from Pella High School and went to Central College in Pella. In 2010 he took a leap of faith and moved to Sunnyside to be with the woman he later married.
In moving to Sunnyside he left his family behind, but he said he's gained a new family here.
"There are really awesome people around here," said Sloan. "Our church is like our family. We get invited to holiday meals and we still have people that care about us."
After arriving in the area in 2010, Sloan got a job as a supervisor at the Prosser Starbucks. He said his BA in environmental science wasn't terribly useful in finding a good job.
Sloan really enjoys being outside and his hobby is trail running. He also enjoys learning about health and nutrition, so when an opportunity to observe at Sunnyside Physical Therapy came up he jumped at the chance. It eventually led to his current job as a physical therapy aide.
"I enjoy working here," he said. "The people are a lot of fun, and you really get to know the patients."
Sloan said seeing patients two or three times a week for months at a time allows him to really develop good relationships.
But his passion is still being outside and trail running. He will be participating in one of the toughest trail running races this summer in Vancouver, B.C. The Squamish50 is a 50-mile ultra-marathon over beautiful mountainous terrain.
"As soon as the passes are clear I'll be spending weekends trail running," he said, grinning at the thought. "Up in the mountains."