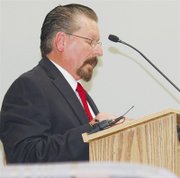 The City of Sunnyside made history last night, according to Mayor Jim Restucci, when a hearing was held regarding the firing of Interim City Manager Frank Sweet that took place in February of this year.
"I believe this is the first time in Washington state's history that a city manager has asked for a public hearing under RCW 35.13.140," Restucci said. He commended Sweet for appearing in council chambers and told the audience of about 30 Sunnyside residents that he was impressed with Sweet's work, particularly the good communication he had received from Sweet. Restucci also noted he had voted against Sweet's removal.
The majority of the audience seemed to favor retaining Sweet as well, with eight people coming forward to speak in Sweet's favor and only one saying the council was correct in firing him.
The public hearing opened with a statement from Sweet regarding his work for the city and the circumstances of his removal. He addressed the two issues mentioned at the February meeting that led to his removal, namely that his performance did not meet council's expectations and that he failed to carry out his duties in a satisfactory manner.
"I have been complimented and praised for my performance as the interim city manager by Sunnyside City Council, staff, citizens, at Sunnyside City Council meetings," Sweet said. "The council meetings (minutes) will confirm this statement. I have also received positive performance compliments throughout most of my time of employment here from many Sunnyside citizens, non-city residents, business owners, employees and consultants."
Sweet noted that he balanced the 2013 budget and had identified many issues the city needed to address, and had started to fix those problems.
Sweet then read the law regarding city managers in the state of Washington, including that city managers have control over hiring and firing of staff. He said the public comments during the meeting he was removed from his position clearly referred to personnel issues.
In addition, he said no one on council had told him that he was not performing his job in a satisfactory manner or that he was not meeting the council's expectations until there was an incident involving Deputy Police Chief Phil Schenck. Sweet said there was no issue with his performance until two letters, which he said were drafted by the city of Sunnyside's insurance company's attorney and signed by Sweet, were given to Schenck.
Sweet said the council violated state law by interfering with his duties to handle personnel issues.
Sweet said that any issues council had with his performance outside of personnel issues should have been brought to his attention and council should have given him a time frame to correct his performance.
Instead, Sweet said the council removed him after a meeting that focused mostly on Schenck, an action that violates state law.
"I truly believe the city of Sunnyside has a great potential for growth and improvement," said Sweet. "It's a great community."
He said that in order to grow, the council needs to allow the city manager to guide the city as allowed by law. The council and the city manager need to work as a team. He again reiterated that personnel issues must be handled by the city manager, and the council cannot interfere.
"In my opinion, for the city of Sunnyside to progress, there must be a true team effort by the city council and city manager where each one clearly understands and abides by their roles and responsibilities," he said.
"I believe for the city of Sunnyside to grow and prosper we need to engage all citizens to have a part in the growth and taking pride in the city of Sunnyside. I have truly enjoyed meeting and getting to know many of Sunnyside's citizens," he added.
After Sweet's opening statement, the council went into a 15-minute executive session to discuss charges brought against the city.
Once the council had returned to regular session, public comments were allowed. Nine citizens of Sunnyside spoke. Eight spoke favorably toward Sweet.
Ibelia Avalos delivered a petition in support of Sweet from roughly 75 residents who could not make it to the meeting. Ron Price argued that council members had not acted in good faith and had threatened Sweet with firing after the letters were sent to Schenck.
Nancy Palomino said that Sweet had taken the time to listen to citizen comments.
Debbie Mendoza said that Sweet was the first city manager to acknowledge her work as court administrator and to consider her as a department head in 27 years of work. She said complaints about court security were listened to and quickly corrected by Sweet, unlike previous city managers.
She finished with a statement about the removal of Sweet.
"Errors were made, feelings were hurt, protocol wasn't necessarily followed, bridges were burned and inappropriate comments were made by many of the players in the drama that enfolded at the infamous council meeting in February 2013," she said. "My only comment about that is that I've never in my life witnessed a public flogging in Sunnyside and I hope I never witness another one."
The only person to speak out against Sweet was Eric Desmarais, who said the decision to remove Sweet was the best decision the council had ever made. He accused Sweet of being dishonest and said he had experienced Sweet's dishonesty first-hand.
"I commend you for your decision and I beg you, do not let this man back in office," Desmarais said.
Demarais, during Sweet's tenure, lost two positions with the city... as a reserve police officer and as security for the local court.
Former Councilwoman Benji Aguilar urged the council to make sure the city is not sued because of this firing, and spoke favorably towards Sweet's work in the city.
"Make a good choice," she said.
After the public comments, Sweet rose briefly to thank all who had spoken in his support. He said he was overwhelmed at what he'd heard. He said he hadn't organized anything, so he hadn't known who would show up.
Councilwoman Theresa Hancock then spoke for a few minutes, talking about how much support Sweet had received from council. She said one council member had said Sweet was the best thing to have happened to Sunnyside. She also said that she had voted against hiring Sweet after the circumstances surrounding former City Manager Mark Gervasi leaving the city.
She said Sweet, during his time in Sunnyside, was handling financial issues going back to 2009, possibly as far back as 2006.
Hancock also said that the council had been offered the chance to mediate the issue and had refused. Councilman Jason Raines interrupted, claiming that Hancock was talking about issues that had been discussed in an executive session. Restucci said Raines was out of order.
Hancock then said she believed council members had violated the open public meetings act by going into Sweet's office to tell him they had the votes to terminate his employment, as reported by the local newspaper.
Deputy Mayor Don Vlieger made a point of order, saying that Hancock was violating the code of conduct by accusing other council members of criminal activity. The point was upheld by Restucci. Hancock countered that the comment had been printed previously in the Daily Sun News and therefore was already part of the public record.
After Hancock spoke, Raines spoke to say that Sweet's employment was at-will and therefore Sweet has no case under state law to argue about his removal.
Newly appointed Councilman Dean Broersma said it has been extremely difficult to decide how to vote. He described the whole situation as uncomfortable.
Restucci finished the evening's comments by saying that he had to make the right decision for the community. He said part of that is allowing the healing process to start.
"I can't bring him back, Sunnyside has already moved forward," Restucci said. "I can't in good faith support hiring Mr. Sweet back."
After the public hearing was closed, Raines moved to remove Sweet as interim city manager. The motion was seconded by Vlieger.
Hancock told the rest of council that it was gut check time and said that the council has not done the right thing.
Restucci said that he could not go against the stream and noted that Sweet would not have the support he needed as city manager from the council.
The vote was 5-1 to remove Sweet. Hancock was against the motion and Councilman Franciso Guerrero was absent.