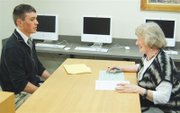 More than a hundred smartly dressed high school students crowded the commons at Sunnyside High School Wednesday afternoon for the Sunnyside Transformation Yakima Valley job fair.
The group of students, after being settled in the school's auditorium, was first treated to a fashion show of how not to dress versus how to dress for a job interview. Three young men came out first dressed in jeans with holes in them and t-shirts with slogans. The same boys then changed backstage and emerged in dress shirts and ties with clean pants to show how dramatic a change in clothing can make in a person's appearance.
The students then listened to guest speaker Jory Anderson talk about the value of work before dividing into groups to either get interviewed or to take a class on food handling. In addition, a class on the impact of drugs on job performance and on a person's chances of getting a job was offered.
SHS senior Avery Gardner said he came to the job fair hoping to find some job opportunities and to learn more about the interview process.
"I'd like to earn a little money over the summer," he said. "And I want to know how to do job interviews for the future."
Teacher Nick Paulakis manned a table to sign the students in for their interviews.
"This is a wonderful opportunity for the kids," he said. "They've been taking classes the past couple of weeks on how to dress and fill out applications."
In the library, about 20 volunteers from the public sector interviewed the students, asking standard questions and grading the students on their answers.
"There was a wide range of ages and a wide range of goals," said Jerri Honeyford, who interviewed five students. "They were so sincere and so prepared. They were exceptionally communicative and ready for an interview."
Freshman Allison Mindieta said she had come to see if she could find a job. She hopes to find a good first position and said she plans to attend the job fair next year.
"It's quite nice what they're trying to do for us," she said.
Macenzie Butler, a senior headed for WSU in the fall, said she hopes to earn some money during the summer. She took the food handler's class and said it was useful. She said she's worked, but never had a paying job before.
Jacob Robles, a freshman, liked seeing the fair at the high school.
"I found it convenient," he said. "It was a useful experience."
Roberto Matus of Sunnyside Transformation Yakima Valley said the goal is still to get 100 students employed over the summer.
"We have about 45 jobs lined up now, and hope to have 75 to 100 by the end of May," he said. "The interview responses will be gone through by volunteers and the Kiwanis Club and students will be called back in the first week in June."