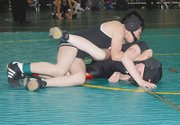 SPOKANE - Nearly half of the 34 youngsters on the Sunnyside Little Grapplers wrestling team who competed at the recently concluded Jason Crawford Memorial Tournament returned home with 'Top 3' trophies.
The Spokane competition for the budding grapplers, ages 5 to 14, is the final outing of the winter/spring season and is considered by the athletes as their 'State' tournament.
Sunnyside Little Grapplers Coach Daniel Guillen noted the season-ending affair again drew a large field of wrestlers from across the state, and as expected the competition was fierce.
"Sunnyside was represented well," Guillen said. "We had 11 in the finals. I was pretty impressed with my little guys.
"A few fell short in the finals, but wrestled their little hearts out.
"We had several in the semi's, barely missing (advancing) by one or two points. Real nail-biters," he said.
Of the 11 Sunnyside youths who made it into the finals of their respective age divisions and weight classes, six emerged victorious as state champs. Those titlists were Ray Palomarez and Jesse Denson (5/6-year-olds), Joan Gonzalez (7/8-year-olds), Andrew Macias (9/10-year-olds), and Carlos Ramirez and Daniel Cardenas (11/12-year-olds).
Guillen said besides the six individual titles secured by his club, the Sunnyside wrestlers also nailed down five runner-up finishes and came away with five third-place performances.
The five Sunnyside runners-up at the state tourney were Aaron Macias (5/6-year-olds), Marcos Velasquez (7/8-year-olds), and Abraham Arreola, Alfonso Ramos and Jector Ramirez (11/12-year-olds).
Claiming bronze medal honors for Sunnyside were Carmelo Reyes (5/6-year-olds), Jayden Jasso (7/8-year-olds), Zakkery Garcia and Riley Guerrero (9/10-year-olds), and Silas Jasso (13/14-year-olds).
Guillen said whether his club members trophied or not, he was proud of all 34 of the wrestlers who represented Sunnyside at the tourney.
"They left it all on the mat. I know all of them had a lot of fun," he said.
Guillen went on to express his gratitude for the job his coaches and the parents of the club members did this season in supporting the team.
"Also, a special thank you to my wife, Monica, for her patience and understanding during our season," Guillen added.