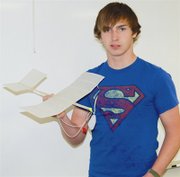 The Sunnyside Technology Student Association (TSA) is at it again, bringing technology experience to Sunnyside schools and sending local students out to prove themselves in robotic and engineering challenges.
A chapter of the national organization, the local TSA group sent 14 students from the high school and middle schools to the state competition in Bellevue at the end of March, and two of Sunnyside's young engineers qualified to move on to the national competition.
Making a repeat appearance will be Sunnyside High School junior Cody Stiltner, who earned second-place honors in the flight endurance competition with a rubber band powered plane.
Stiltner, showing off the plane, explained that after the band was tightly wound the competitors placed the plane on the ground to let it launch. The duration of the flight had to be over a minute. Only three planes flew that long. Stiltner's plane flew for 65 seconds.
"Some of the competitors put the wings higher on the body," he said, examining his plane. "I'm not sure what it does but the guy who beat me had it like that."
Stiltner also competed in the robotics competition. Last year he earned second-place honors in robotics and went to the national competition. This year his robot was deemed fourth best, not a high enough placing to allow him to compete in that event at nationals. He will probably compete in more than just flight endurance, however.
"There are some open competitions," said Stiltner's advisor, Spencer Martin. "We'll check through and see what else he can enter."
Harrison Middle School will also be sending a representative to the national competition this year. Hacxel Arteaga also competed at state and earned fifth-place honors in the flight category, enough to send him to the national competition.
"We built a plane that was balloon-powered," he said. "We launched it with a catapult and were judged on distance, I think."
Arteaga said he also competed in a structural engineering challenge in which the students designed a beam and were tested on the amount of weight it could bear.
The national competition will be held in Orlando, Fla. the weekend of June 28 through July 2.