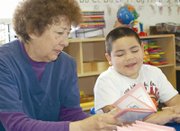 There was a low hum in Helen Gonzalez's classroom Tuesday afternoon as more than a dozen four-year-olds concentrated on practicing their writing, reading and working puzzles skills.
There was the occasional outburst of joy, which lasted for a few moments until "Teacher Helen" reminded the youngsters that others were reading.
The children, who attend Learning Land Express Childcare and Pre-School in Sunnyside, routinely study these skills as a part of the center's pre-school curriculum, but soon, thanks to a new Early Achievers grant, the center will be participating in Washington's Quality and Improvement System.
Early Achievers is hosted as a pilot program through Yakima Valley Community College, and is designed to implement the new Washington State Core Competencies for Early Care and Education professionals.
In addition to laying the ground work to offer childcare staff the opportunity to seek professional development, the program creates a foundation to support parents with additional resources for partnering in their children's future academic success.
"We are very happy we have been selected as a participant in the program," said Virginia Molina, the childcare center's program director.
Soon the children will find themselves having even more structure and learning resources thanks to the new grant, Molina explained.
As a part of the grant criteria, staff will be conducting self evaluations of programs and the staff's childhood education expertise. The aim is to create an atmosphere so staff can help families by offering resources to them to help their children succeed in their learning patterns.
"Additionally, we will be working toward adopting development screening tools to help children," Molina said.
The Sunnyside preschool recently also qualified to be a part of the South Central Infant/Toddler Consultation Project, Molina added.
While the winners in the Early Achievers program are the children, who will be cared for by well-trained early childhood providers, the preschool will also benefit with monetary benefits for each tier completed toward meeting the rating criteria, said Molina.
"We can then use that funding to enhance and expand existing and new programs," she explained.