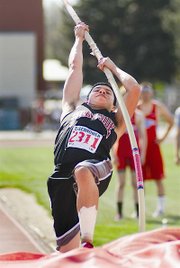 In its one and only appearance this spring at Sunnyside's Clem Senn Field, the Grizzly track and field team yesterday came away with nine victories against visiting Eisenhower and Eastmont.
The most spectacular performances for Sunnyside were turned in by senior Eric Amaro. Winner of both the boys discus and javelin events, he obliterated his previous season best throws.
In the discus, Amaro up until yesterday had barely broken the 140-foot mark. Thursday, he launched a throw of 153-3, nearly 30 feet further than the runner-up toss of teammate Jose Sanchez.
Amaro also came up big in the javelin. The SHS senior turned in a State meet-like effort of 177-4. The second best throw on the day belonged to Eastmont senior Nick Jacobus (145-10).
Sunnyside also had a two-time winner in junior Elijah Pena. He claimed the top spot in both the boys 110 and 300-meter hurdles races.
Sunnyside's boys, too, received a runner-up performance from sophomore Bernaldo Madrigal. Competing in the 200-meter dash, he finished half a second back of Ike sophomore Luis Leon, who clocked the winning time of 23.28 seconds.
In the girls events yesterday, no Sunnyside athlete had a bigger day than junior Vanessa Alvarez. She was in on four of the five wins the Lady Grizzlies recorded.
Individually, Alvarez claimed top honors in the 100-meter sprint and long jump. She also was a member of Sunnyside's winning 4x100 and 4x200 relay squads.
Junior Brittney Broersma excelled for the Lady Grizzlies, as well. She, too, was on both of the winning relay squads, and managed a victory in the 300m hurdles and a runner-up finish in the 100m hurdles.
Sunnyside also got a second-place performance from senior Kendall Platsman in the girls shot put.
BOYS
100m - 1st-Jeremy VanAssche (East.) 11.68, 2nd-Luis Leon (Eisen.) 11.81, 3rd-Michael Ballard (East.) 12.05, 4th-Bernaldo Madrigal (S) 12.07, 7th-Jesus Magallan (S) 12.17
200m - 1st-Luis Leon (Eisen.) 23.28, 2nd-Bernaldo Madrigal (S) 23.77, 3rd-Eduardo Ayala (Eisen.) 23.90, 6th-Jesus Magallan (S) 25.18
400m - 1st-Drew Schreiber (Eisen.) 49.96, 2nd-Trenton Osborn (East.) 51.42, 3rd-Jose Morales (East.) 52.99, 6th-Audiel Sanchez (S) 54.84
800m - 1st-Drew Schreiber (Eisen.) 2:07.05, 2nd-Jesus Medina (Eisen.) 2:07.92, 3rd-Simon Verduzco (Eisen.) 2:08.75, 6th-Victor Sandoval (S) 2:18.83
1600m - 1st-Simon Verduzco (Eisen.) 4:40.06, 2nd-Jesus Medina (Eisen.) 4:44.47, 3rd-Gavin Leaverton (Eisen.) 4:46.68, 8th-Adrian Brambila-Ramirez (S) 5:04.17
3200m - 1st-Gage Benner (Eisen.) 10:14.98, 2nd-Freddy Rodriguez (Eisen.) 10:22.29, 3rd-Ben Mahony (Eisen.) 10:22.82, 8th-Nathaniel Prieto (S) 12:25.06
110m hurdles - 1st-Elijah Pena (S) 15.42, 2nd-Collin Doneen (East.) 15.88, 3rd-Kyle Isaacson (East.) 16.24, 5th-Alvin Lopez (S) 18.56
300m hurdles - 1st-Elijah Pena (S) 41.22, 2nd-Kyle Isaacson (East.) 42.18, 3rd-Spencer Stewart (Eisen.) 42.64, 7th-Alvin Lopez (S) 46.31
4x100 relay - 1st-Eastmont 43.19
4x400 relay - 1st-Eisenhower 3:30.58
Shot put - 1st-Cody Huguenin (East.) 50-7.75, 2nd-Chris Lopez (Eisen.) 41-9, 3rd-Jose Jimenez (Eisen.) 39-2.25, 6th-Xavier Cortez (S) 36-4.25
Discus - 1st-Eric Amaro (S) 153-3, 2nd-Jose Sanchez (S) 123-9, 3rd-Chris Lopez (Eisen.) 120-9, 5th-Xavier Cortez (S) 115-4
Javelin - 1st-Eric Amaro (S) 177-4, 2nd-Nick Jacobus (East.) 145-10, 3rd-Andrew Martinez (Eisen.) 137-6, 6th-Saul Salmeron (S) 122-7
High jump - 1st-Killion McGinnis (East.) 6-1, 2nd-Nick McGill (East.) 5-8, 3rd-Bennett Ullom (Eisen.) 5-6
Pole vault - 1st-Camden Wheatcroft (East.) 12-0, 2nd-Ian Kinney (Eisen.) 11-6, 3rd-Curtis Miller (East.) 11-0, 6th-Ricardo Perez (S) 9-6
Long jump - 1st-Trenton Osborn (East.) 23-0.75, 2nd-Brian Burt (East.) 22-0, 3rd-Eduardo Salmeron (S) 18-11.75, 7th-Saul Salmeron (S) 17-7.5
Triple jump - 1st-Travis Frymier (Eisen.) 42-0.25, 2nd-Austin Adams (East.) 41-2.5, 3rd-Collin Doneen (East.) 40-8.75, 7th-Saul Salmeron (S) 36-4
GIRLS
100m - 1st-Vanessa Alvarez (S) 14.05, 2nd-Crystal Castro (Eisen.) 14.31, 3rd-Taylor Link (East.) 14.38, 4th-Laura Carrillo (S) 14.42, 5th-Madison Marro (S) 14.64
200m - 1st-Betsy Arlt (East.) 28.30, 2nd-Crystal Castro (Eisen.) 28.50, 3rd-Samantha Meyers (East.) 29.39, 4th-Laura Carrillo (S) 29.89, 5th-Madison Marro (S) 30.28
400m - 1st-Betsy Arlt (East.) 1:01.13, 2nd-Rebecca Tarbert (East.) 1:03.35, 3rd-Kayla Rivera (Eisen.) 1:04.36, 5th-Victoria Torres (S) 1:08.60
800m - 1st-Alyssa Pena (Eisen.) 2:33.46, 2nd-Samantha Gil (Eisen.) 2:35.50, 3rd-Mercedes Chavez (Eisen.) 2:36.11, 9th-Maribel Macias (S) 3:02.76
1600m - 1st-Elise Tello (Eisen.) 5:29.58, 2nd-Tori Klein (Eisen.) 5:34.12, 3rd-Megan Glenski (Eisen.) 5:38.57, 5th-Jeniya Guillen (S) 5:54.74
3200m - 1st-Elise Tello (Eisen.) 12:09.82, 2nd-Megen Glenski (Eisen.) 12:26.90, 3rd-Viviana Larios (Eisen.) 13:19.74
100m hurdles - 1st-Devin Simpson (Eisen.) 17.03, 2nd-Brittney Broersma (S) 17.29, 3rd-Krissy Stewart (Eisen.) 18.57, 5th-Ana Diaz (S) 19.18
300m hurdles - 1st-Brittney Broersma (S) 48.76, 2nd-Devin Simpson (Eisen.) 51.58, 3rd-Rachel Simpson (East.) 51.65, 5th-Summer Hazzard (S) 54.49
4x100 relay - 1st-Sunnyside (Vanessa Alvarez, Leah Diddens, Laura Carrillo, Brittney Broersma) 53.17
4x200 relay - 1st-Sunnyside (Vanessa Alvarez, Brittney Broersma, Laura Carrillo, Leah Diddens) 1:55.20
4x400 relay - 1st-Eisenhower 4:27.96
Shot put - 1st-Casey King (East.) 35-8.5, 2nd-Kendall Platsman (S) 34-10, 3rd-Savannah Jackson (East.) 33-10.25, 5th-Madison Marro (S) 30-8.5
Discus - 1st-Casey King (East.) 108-1, 2nd-Claire Goins (Eisen.) 104-10, 3rd-Rachel Bush (Eisen.) 95-10, 5th-Gardenia Contreras (S) 85-3
Javelin - 1st-Brooke Brown (Eisen.) 131-9, 2nd-Maria Jacobus (East.) 97-6, 3rd-Jessica Cardenas (S) 91-11, 6th-Yaneli Alcala (S) 68-9
High jump - 1st-Katherine Janney (East.) 4-6, 2nd-Daria Gausman (East.) 4-6, 3rd-Erika Rackley (Eisen.) 4-6
Pole vault - 1st-Michelle Mercer (Eisen.) 9-0, 2nd-Hannah Craig (East.) 9-0, 3rd-Karoly Despain (Eisen.) 8-6, 6th-Tara Van Corbach (S) 7-6
Long jump - 1st-Vanessa Alvarez (S) 14-8, 2nd-Devin Simpson (Eisen.) 14-5, 3rd-Julia Negrete (East.) 13-6, 7th-Jordan Rodriguez (S) 13-0.25
Triple jump - 1st-Erika Rackley (Eisen.) 31-8, 2nd-Adele Doneen (East.) 31-4, 3rd-Devin Simpson (Eisen.) 31-3, 8th-Geordan Skyles (S) 27-6