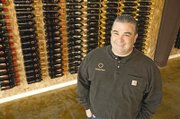 BENTON CITY - Over the last decade, Red Mountain has drawn top grape growing talent from locations as far removed as California and Italy to this small Eastern Washington enclave, but few winemakers have dedicated themselves to showcasing the unique terroir and varied tastes of Red Mountain's distinct vineyards until now.
Charlie Hoppes, one of Washington's veteran vintners and Fidelitas owner and winemaker, announced plans earlier this month to devote Fidelitas to making Red Mountain wines exclusively, promising singular focus on a diverse collection of vineyard-designated Bordeaux varieties and blends from Washington's smallest AVA.
When it comes to familiarity with Columbia Valley vineyards, only a handful of vintners have traveled more miles sourcing grapes than Hoppes. A 26-year Washington state winemaking veteran, Hoppes founded Fidelitas in 2000. He quickly earned acclaim for his wines through partnerships with the state's top growers from the Yakima Valley to the Horse Heaven Hills, working to capture the distinctive character of an exceptional assortment of vineyards in all his wines.
While it is Red Mountain's rich, ripe grapes that draw the state's best winemakers to the appellation today, Hoppes' journey to Red Mountain began in 1989 when he first attended a tasting at Kiona Vineyard on a hot June day.
"At the time, Red Mountain was more about sagebrush than vineyards, but it had a special feeling all the same," recalls Hoppes, who frequently brought his wife and young family out to Red Mountain for Sunday drives in the early 1990s.
In 2005, with plans on the drawing board for a Fidelitas Red Mountain tasting room that would open the following year, Hoppes began looking to purchase Red Mountain grapes. He managed to buy a small lot of Merlot and made a Red Mountain-designated wine that remains one of the favorite wines of his career.
"I hadn't worked much with Red Mountain grapes prior to 2005, and I was absolutely blown away that year.
"After harvest, I went looking for more grapes - fast!"
In 2006, he made his first Cabernet Sauvignon from Ciel du Cheval. About the same time, water rights began opening up on the mountain leading to a surge in vineyard planting and allowing Hoppes to develop a plan to devote his winemaking to Red Mountain exclusively.
"My interest has always been in classic Bordeaux varieties. The quality and diversity of the vineyards, along with leading growers' focus on clonal selection, drew me in here," he says.
This year, Fidelitas will add a Red Mountain Cabernet Sauvignon to a line-up that already includes a Red Mountain Red, Red Mountain Merlot, Ciel du Cheval Cabernet Sauvignon and Ciel du Cheval Cabernet Franc. In May, the winery will also release the 2010 vintage of its signature Bordeaux blend, Optu Red, made exclusively for the first time from Red Mountain.
Fidelitas is a boutique winery located on the slopes of the Red Mountain AVA. Hoppes said he works in partnership with Red Mountain's finest growers to capture the distinct character of the vineyard and the purest expression of the fruit. The wines, he said, are handcrafted and aged in small lots, showing exceptional character, varietal expression and structure.
For more information, visit fidelitaswines.com.