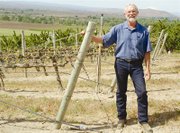 After more than a decade of government service in Olympia, Dan Newhouse is back home tending to the family's Sunnyside-area farm.
It's a new chapter - but familiar territory - for Newhouse, who just four weeks ago completed a four-year term as director of the Washington State Department of Agriculture.
For nearly eight years prior to that he served in Olympia as one of the Lower Valley's two elected officials in the House of Representatives at the state capital.
A third-generation farmer here in the Lower Valley, Newhouse is busy these days - whether it's overseeing preparations for hop season or tending to a new organic vineyard.
"It's spring time, everything should have been done yesterday!" Newhouse laughs, bouncing around in a 4-wheel drive up and over hills and vales on his family's 600-acre spread near South Emerald Road.
"There's the old economic rule that you don't carry all your eggs in one basket," Newhouse says of his family's varied approach to farming that grows everything from hops to grapes to apples and even cherries.
Ag legacy
As a citizen farmer, Newhouse's stint as the state's ag director is still close to the heart.
"It was a great job," he says wistfully. "There are a lot of good people in the agriculture department."
Newhouse's post was essentially that as a CEO for the ag department in overseeing 750 employees.
He started his term during the depths of the recession and had the unenviable task of making budget cuts in the department pretty much right from the get-go.
"It was like triage," he says. "We had to make sure what we were doing was essential."
There were some tough choices for Newhouse, such as the necessity to cut funding for domestic trade marketing. "That program helped a lot of our small farms," he says, noting that a recent upturn in the economy has the state eyeing a restoration of domestic ag promotion within the U.S.
Fortunately, the ag department was able to maintain foreign trade marketing.
"Twenty to 30 percent of our agricultural products are exported," Newhouse notes.
Likely his most long-lasting contribution to the state's agriculture department was a re-shaping of how its employees do their jobs.
In an interview with the Daily Sun News right after his appointment, new ag director Bud Hover praised Newhouse's efforts at leadership training within the ag department and pledged to continue that program.
Newhouse says it's a leadership training program that equips staffers in the ag department for possible advancement.
"It really did work out well," he says. The program worked by offering some employees the opportunity to try out a position above them for a trial basis of six months.
"It broadened their leadership abilities," he says of the program. "It added potential they didn't have before."
When the six-month trial concluded, the employee then went back to their regular position within the Department of Agriculture.
The result, Newhouse notes, is that when a position with more responsibility became vacant, those with the trial experience could apply for the post and have that six-month stint as a plus for their resume. Other times, he adds, an employee would see the job at a pay grade above their's was one they perhaps did not want on a permanent basis after a six-month stint in the post.
Either way, the move worked to boost morale among ag department employees.
"It gave them a sense that there was opportunity for promotion, that they didn't have to do the same job for 30 years," Newhouse says.
While holding the job for far more than six months, Newhouse says he knew going in that his term as director of agriculture would be temporary, with new governors often wanting to make their own appointments.
"You put your heart and soul into a job and know it's not a permanent position," he says. "It's not a career."
"It kind of gets
in your blood"
It looked like Newhouse might actually have a long career as a Lower Valley legislator in Olympia. He was in his fourth term in the House in 2009 when Gov. Christine Gregoire came calling, asking Newhouse to take the ag department's top job.
"I told her I enjoyed what I'm doing, I wasn't ready to leave the legislature," he smiled.
Now he enjoys just being a private citizen - including renewed participation in the Sunnyside Daybreak Rotary Club - but Olympia's not far from his thoughts.
"It kind of gets in your blood," he says.
Newhouse expressed support and appreciation for the work in Olympia by the Lower Valley's contingent of lawmakers: Sen. Jim Honeyford, Rep. Bruce Chandler and Rep. David Taylor.
Following the current session at a distance, Newhouse praises the move in the state Senate this session that has Republicans and Democrats sharing leadership after Democrats had controlled the chamber for many years.
"It makes for a better budget writing process when there's a balance," he adds.
Open options
Now that he's balancing responsibilities as a full-time farmer with son Devin, Newhouse says he's not seeking political office, yet won't say no if a vacancy arises.
"I'm keeping my options open, if there's an opportunity where I think I could help," he says. Newhouse adds with a laugh, "I'm not a guy that has a definite political agenda or goal, I'm not going to be president."