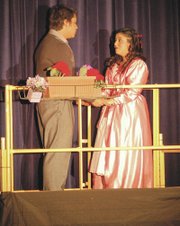 GRANDVIEW - What this high school performance of the musical "West Side Story" may lack in polish, it makes up for in enthusiasm and emotional punch.
The musical is a modern retelling of Romeo and Juliet, set in a turbulent time in New York City when street gangs clashed.
The Grandview production started out with a statement about the racist nature of some of the language in the play, warning the audience about it.
The performance last Friday night suffered from usual first night issues with sound and an occasional performer unable to quite overcome the sound of the piano at first, but the players became more confident as the story moved along, settling into their roles with verve.
The turning point may have been the iconic song "Maria", which Tony (Antonio Castillo) sang with deep longing. The rendition of "Tonight" by Tony and Maria (Inez Torrez) helped push the energy up further.
But it was "America" performed by Anita (Taylor Colson), Rosalia (Andrea Reyes) and the other Shark Girls that set the tone for the rest of the play.
The actors playing the Jets were particularly good at the fight scenes, with the audience getting a real sense of the desire to fight from Brendon Lynch, Joesiah Saunders and Curtis Clute. Riff, played by Milagro Castilleja, seemed to have his hands full controlling his gang.
Also of particular note was the performance of Briana Biggs as Anybodys, the Jet Girl who wanted to join the gang. Her appearance at the end of the first act ramped up the tension as the audience went into intermission.
The star of the play, however, was definitely Torrez. She embodied the spirit of the innocent Maria in the early scenes. Her performance of "I Feel Pretty" was almost a showstopper.
When the character's innocence is shattered is when Torrez truly shines, however. Her burst of anger at Tony and her handling of the grieving Anita were both masterfully played.
The final scene is wrenching, as Torrez controls the action completely, ripping away all the farce with an emotional plea so compelling that even those familiar with the ending found tears in their eyes.
This play is the final hurrah for Melanie Manship, the drama teacher who is retiring at the end of the school year. And it's a very strong finale.
The final two performances of the play will be Friday, May 3, and Saturday, May 4, at Grandview Middle School starting at 7 p.m. Admission is $6 for adults, $3 for students and senior citizens and free for children six years of age and younger.