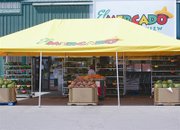 GRANDVIEW - To celebrate its becoming a member of Independent Grocers Alliance (IGA), the world's largest voluntary supermarket network, El Mercado in Grandview is staging a grand opening celebration, beginning Wednesday, May 1.
In recognition of the store's new affiliation and its continued growth as a locally-owned business, IGA El Mercado de Grandview owners Phil Blackburn and David Weber are hosting the grand opening celebration, beginning Wednesday, the first day the store officially begins operating under the IGA Red Oval banner.
Blackburn and Weber plan to give free carnations to the first 100 shoppers to enter the store on May 1. Beginning at 1 p.m. on Thursday, May 2, and every Thursday throughout the four-week event, free grocery products will be given to the first 25 shoppers that enter the store.
In addition, the store will be offering shoppers "Dinners Ready" (a full-meal-deal for four people, for just $9.88) on each Friday during the celebration. Blackburn said customers will also see special grand opening pricing on many of their favorite items throughout the store.
"We are very excited and energized by our new affiliation with IGA and the many opportunities it brings to our store and the local community," said Blackburn.
"As a local, independent business with deep roots in eastern Washington, we feel IGA's 'Hometown Proud' values are right in line with our goals. The power of IGA and the quality of its many consumer-focused programs will help us continuously improve our business and our customers' overall shopping experience," he explained.
"We very much look forward to celebrating our progress with all of our old friends and new customers in the coming weeks."
Blackburn encourages shoppers to register to win bicycles, candy and sports chairs that will be given away at the end of the celebration.
Additionally, Washington's Lottery will have a "Second Chance Drawing" with a chance to win a 42-inch TV for scratch-off tickets purchased at IGA El Mercado de Grandview. "Tiga," the IGA mascot, will add to the family fun with Kid's Club activities for the children. Parents are encouraged to bring their cameras and take pictures with Tiga.
IGA El Mercado de Grandview is a full-service supermarket offering a complete selection of meat, produce, bakery and deli items along with a wide array of beverages, snacks and convenient store services.
As a member of IGA, El Mercado de Grandview will expand its variety and selection by adding more than 150 IGA private label brand products and offer many special IGA promotions and events throughout the year.
For more than 80 years, IGA's Red Oval product line has earned an outstanding reputation for quality and value.
In addition, shoppers will be able to take advantage of El Mercado de Grandview's powerful, new website featuring online specials, weekly ads, recipes and a wide variety of shopping and meal planning tools.
The store's employees will also benefit from IGA's extensive training and assessment programs designed to help all IGA stores and associates throughout the world thrive and grow in their communities.
IGA is the world's largest group of independent grocers with aggregate worldwide retail sales of more than $29 billion per year. The alliance includes more than 5,000 'Hometown Proud' supermarkets worldwide, supported by 36 distribution companies and more than 50 major manufacturers, vendors and suppliers known as IGA's Red Oval Family partners. IGA has operations in 46 states and more than 30 countries, commonwealths and territories.
IGA, El Mercado de Grandview store hours of operation are 7 a.m. to 10 p.m., seven days a week.