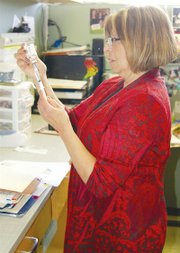 Dr. Sophie Gomez has been all over the world, but she started life in New Orleans, growing up in Louisiana and Texas.
"My family is still in Texas," she said. "But I have a brother in Port Angeles and cousins in Seattle."
Gomez went to Tulane University and eventually moved to New York City for her internship and residency. In 1995 she lived in Yakima for the first time, but moved on to Seattle and the Tri-Cities before returning. She's been living in Yakima now for about four years.
"I've been all over," she said.
She's now working as a doctor of internal medicine, spending two days a week at the Sunnyside Family Medicine clinic at the Eastway Shopping Center.
But she still enjoys travel. She spent two weeks in India a couple of years ago, visiting Mumbai and the Taj Mahal.
"I love to travel," she said. "I'm definitely going to Texas this summer, but I might go somewhere else as well."
Gomez is divorced with no children, but she loves animals, particularly dogs. She had a German shepherd. She's also a certified Zumba instructor, although she's currently not teaching.
Growing up in a bilingual family, Gomez is fluent in Spanish as well as English, a skill that serves her well in Sunnyside.
"I like practicing in the valley because I get to use my Spanish," she said.
But it's travel that captures her imagination. And she has an ongoing desire to see new places.
"I have to go somewhere soon," she said. "I think I'll either go back to India or visit Mexico."