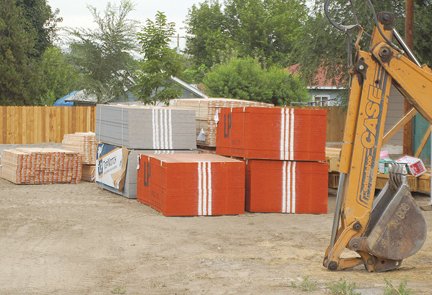 The health care industry's continued growth in Sunnyside spiked the value of new building starts here last month to over the million-dollar mark.
The 52 projects permitted during July have a combined total valuation of $1.24 million. A third of that total is from Sunnyside Community Hospital's urgent care clinic at 2705 E. Lincoln Ave., #A.
The clinic project is valued at $412,000 and generated $4,527 in permit fees. Mountain States Construction of Sunnyside is listed as the contractor.
The hospital's clinic is the fourth major health care project greenlighted in Sunnyside this year. The others include a Yakima Valley Farm Workers' urgent care clinic, Neighborhood Health's expansion and Sunnyside Community Hospital's installation of a new MRI machine.
The four health care expansion projects here have a combined value of more than $2 million.
Speaking of the medical field, sign permits were issued last month for a medical center at 803 E. Lincoln Ave., the Farmworkers' clinic at 2680 E. Yakima Valley Hwy. #C, and the Clarity Eye Care clinic at 2695 E. Lincoln Ave. #E.
Several commercial-related projects in Sunnyside also got the go-ahead last month.
The largest commercial project given thumbs up by city permitting officials last month – and the second-highest valued overall – is a remodel at 2010 E. Yakima Valley Hwy. to provide office space for DSHS Children's Administration. The project is valued at $185,000 and netted $2,429 in permit fees for the city.
In other commercial activity last month, three permits were approved for the Dutch Bros. Coffee Shop at 2630 E. Yakima Valley Hwy. They were for plumbing, signage and a $30,000 alteration of the coffee shop building.
Elsewhere in Sunnyside last month, Bestebreur Bros. Construction received a go-ahead to construct a steel canopy to cover a cherry processing area at 336 E. Blaine Ave. That project is valued at $90,000.
Another commercial-related project OK'd in July was a 432 square-foot sales office at 1119 S. 16th St. The office is valued at $31,648.
Other permits of note issued in July were for a new two-story duplex at 1206 Idabelle Lane, valued at $113,228, and work on a cell tower at 2330 E. Yakima Valley Hwy. with a valuation of $20,000.
July also saw three permits issued to repair and make the Sunnyside Museum restroom ADA compliant.
In addition, the Sunnyside School District got the go-ahead last month to remove and demolish three portable classrooms at Chief Kamiakin Elementary School.
For the month of July, Sunnyside city coffers garnered $19,663 in permit fees.
The 52 permits issued by Sunnyside officials last month was three times the number stamped for approval during July 2012.
Year-to-date for 2013, Sunnyside officials have issued 270 permits related to building projects. By contrast, Sunnyside issued 328 permits for all of 2012.
More notable, still, is the fact Sunnyside's new building valuation totals for the first seven months of 2013 ($19.4 million) is already double that of last year's $9.5 million.
Same goes for permit fees Sunnyside city hall is receiving. It has garnered $196,229 in fees for projects receiving permits through the first seven months of 2013. That, again, is just over double the total fees received for all of 2012, which was nearly $94,000.