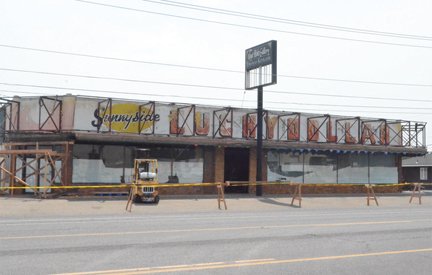 A piece of Sunnyside's history was unveiled last week as owners of La Barata Carniceria removed an awning from the building at 327 Yakima Valley Highway.
The store most recently occupied by H&H Furniture will be the meat market's new home once renovations are complete, according to Sunnyside Planning Supervisor Jamey Ayling.
Bill Flower has owned many properties in Sunnyside. He said what has been revealed as the former Sunnyside Lucky Dollar store was originally constructed just after WWII.
"Mr. (Marcius) Gates constructed the building…it was Gates Market," said Flower.
Attempts to track the building's history left a few years unaccounted for.
But, Eagle Newspapers President and former Daily Sun News Publisher Tom Lanctot remembers the Sunnyside Lucky Dollar Store was an independent grocery store.
"For several years it was owned by Del Worley and managed by Larry Rehume," Lanctot said.
Those contacted regarding the history of the building recall a period when Bob Hall Sr. owned the property.
Hall said he believes the Lucky Dollar was in business throughout the 1950s, 1960s and a few years in the 1970s.
He purchased the property in the late 1970s and rented it to Bieber Bros. Fashion Floors.
Jim Bieber was one of the business owners, stating Bieber Bros. was located at that site from 1979 to 1984.
"The marquis was in place before we moved into the building," said Bieber.
Since the Bieber brothers relocated their business there have been numerous other businesses at the location. Included have been restaurants, a Thomas Kincaid art gallery and H&H Furniture.
"It brings back memories...I remember shopping there (at Lucky Dollar) when I was a kid," Lisa Fairbairn of Sunnyside said when she spotted the old signage revealed by the removal of the awning.
‑ Jennie McGhan can be contacted at 509-837-4500, or email JMcGhan@DailySunNews.com