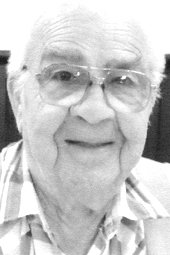 Michael James Scherr, 89, of Kennewick and a former Grandview resident passed away on Thursday, Aug. 8, 2013.
He was born May 3, 1924 in Linton, N.D. to his immigrant parents, Nicholas Jochum Scherr from the Ukraine and Carolina Glatt, born on Ellis Island the day her family arrived in the U.S. His early childhood began in the German/Russian communities of North and South Dakota during the depression of the 1930s. The family moved to Sunnyside in 1935. They settled in Prosser, where he completed the eighth grade, and then set out on his own working farm labor jobs throughout the state of Washington.
He entered into the U.S. Army at the age of 17 (he lied about his age). He served in WWII in North Africa and Italy. We recalled his story while in Italy of a German airplane flying overhead and scrafing his position, he ran for cover, crossing a creek and not one drop of water on his boot. It paid to be fleet of foot!
Dad is survived by his last remaining sibling, Mary (Rabie) Jones of Yakima.
He grew up in a family of 12; four boys and eight girls.
Mike was a devoted rock hound enthusiast. He and his friend Siy spent several fishing trips looking to hook the big lunker. He had claimed to have discovered a gold vein between Prosser and Benton City in one of the canyons along I-82 by dousing.
He enjoyed games of pinochle, hand and foot card games and his utmost joy of cut-throat.
Mike's faith in the Catholic church was a strong influence in his life. It helped to develop his character. His oldest sister was a nun who served the church in South Dakota and Mexico. He has had several relatives who have devoted their lives to the Catholic faith.
Mike's practical wit was so enjoyable to witness. It was a big part of his character. He was a character! As a result, his children and other family members have developed their own lines of sarcastic wit. Each of us have been the victims of each other's sarcastic sense of humor.
He was a 35-year member of the Fraternal Order of Eagles.
He retired in 1986 after a 30-year career at the Safeway plant in Grandview.
He is survived by his children: Michael Gustov of Pasco, Patricia Marie (Kleinow) (Don) Hamrick of Spirit Lake, Idaho, Robert (Jane) Allen of Kennewick, Gerald Russell of Graham, Franklin Edward of Prosser, Ann (Corey) Herrman Berg of Yakima and Kelly Ray Fox of Kennewick; 15 grandchildren; 10 great-grandchildren; and numerous nieces and nephews.
He is preceded in death by both parents; his brothers: Jacob, Joseph and Frank; as well as his sisters: Sister Mary Alice OSB, Betty Roberts, Margaret Rabie, Johanna Scherr, Eve Mieras, Ann (Hill) Lambert and Julia (Daugherty) Ciroulo; his wives, Grace Herrman Scherr and Doris Jewel Scherr in 2007.
Viewing and visitation will be held Tuesday, Aug. 13, 2013, from 4 to 8 p.m., with recitation of the Holy Rosary at 6 p.m. at Smith Funeral Home in Grandview. Mass of Christian Burial will be held Wednesday, Aug. 14, 2013, at 10 a.m. at Blessed Sacrament Catholic Church in Grandview, with burial to follow at Lower Valley Memorial Gardens in Sunnyside.
Those wishing to sign Michael's on-line memorial book may do so at www.funeralhomesmith.com.
Smith Funeral Homes Ltd. and Crematory in Grandview is in charge of arrangements.