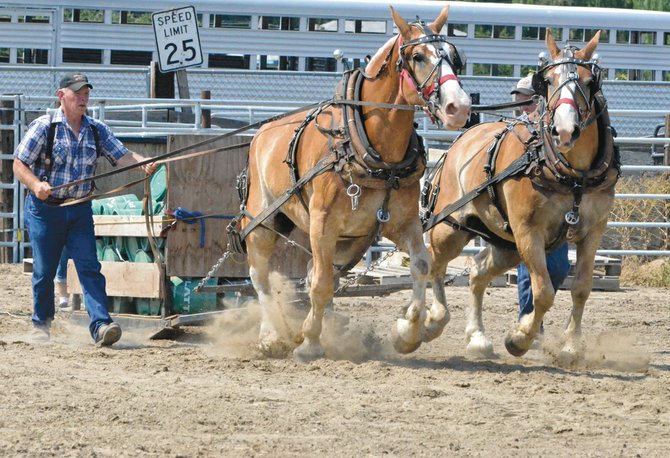 GRANDVIEW – With driving ambition to exhibit willpower and strength, nearly a dozen teams of horses competed last Friday at the annual team pull competition at Fisher Arena in Grandview.
The team pull competition is part of the annual Yakima Valley Fair & Rodeo, attracting horse owners from throughout the Pacific Northwest.
The competition involved a lightweight division (under 3,500 lbs.) and a heavyweight division (more than 3,500 lbs.), with five teams in the latter category.
In the heavyweight division, it was Randy Dodge of Albany, Ore. who earned top honors with his team, Mike and Simon. The pair of horses pulled 9,000 lbs. of weight a distance of more than 20 feet before being declared the winners.
Earning runner-up honors were Jake and Bubba, owned by Bob McGowan of Lebanon, Ore. That team's combined weight is 4,230 lbs. and they pulled 9,000 lbs. a distance of 18'-7".
Pulling 7,500 lbs. were Lucky and Jinx, owned by Gerald Lee Jr. of Sandy, Ore. That earned the 3,900 lbs. of horsepower third-place honors in the heavyweight division.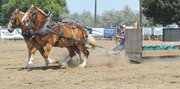 Dodge's lightweight Belgian geldings earned top honors, as well. Red and Bud pulled 7,000 lbs. the full 20 feet.
Cameron Whitman of Ferndale earned runner-up honors in the lightweight division with his team of shires. The duo of Butch and Roy managed the 20-foot pull of 7,000 lbs., but Whitman decided not to force the horses to pull any more weight.
It was Amos and Andy, a team of Belgian-percheron cross horses, that earned third place honors after pulling 7,000 lbs. for 76-inches. The team is owned by Gerald Lee Sr. of Boring, Ore.
Each of the teams had a second-chance opportunity if they were unsuccessful at pulling a certain weight the entire 20-feet.
A few owners bowed out after seeing their teams straining at different weight limits. The competition began with 4,000 lbs. and the horses easily managed that weight.
Earlier in the day was the youth horse driving competition. Winning top honors was Matthew Humpherys of Grandview. Lecie Owens of Grandview earned runner-up honors in the event.