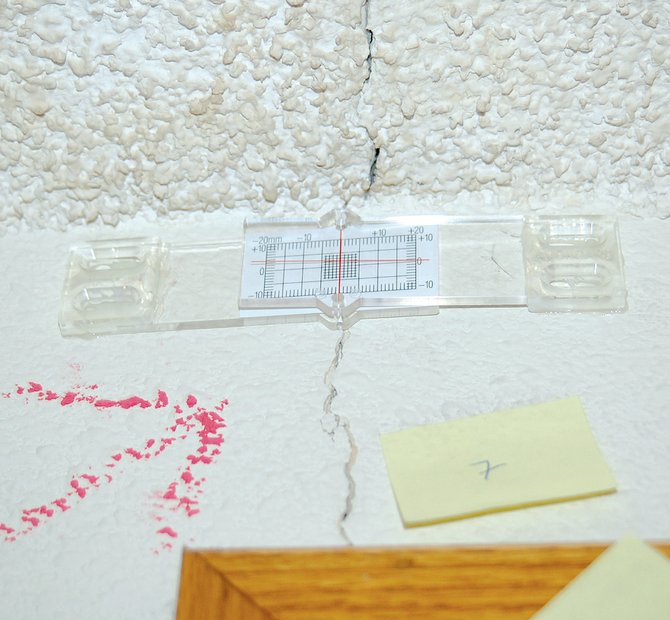 Last month Doug Garrison of Garrison & Associates Law Firm said he believed the building in which his business operates sustained some damage as a result of nearby construction work.
He said the vibrations from compacting the site where the fire house addition is being constructed caused numerous cracks to appear in the building, but that theory is being scientifically tested by several entities.
Sunnyside Fire Chief Aaron Markham said Mahaffey Enterprises, the excavator, asked its insurance company to complete some testing.
Joe Innis, vice president of Mahaffey Enterprises, said the testing included some seismograph studies.
"We are waiting on that report," he said.
Garrison said there are meters that have been strategically placed around his property, as well as near a building owned by the Port of Sunnyside. Those meters are meant to measure whether or not cracks purportedly caused by the construction continue to grow.
Markham said the current fire station is as close to the construction site as Garrison's office is. He said he did feel the vibrations from the compacting, but it did not seem as severe as Garrison's earlier claims.
He said Mahaffey's insurance firm completed some testing already and the results show equipment used by the excavation firm "…barely hit the bottom range of acceptable vibration levels, and none of the equipment exceeded the limits at all."
Markham conceded, however, "Just because vibrations aren't severe enough on paper to cause damage doesn't mean you won't feel the vibrations."
To further investigate the issue, Markham said G.N. Northern, an engineering firm, has been hired to complete an assessment of Garrison's building. That is why the meters, used to measure the growth of the cracks, are in place.
Geophysicists have also been studying the situation. One is working with the city and the other is working for Mahaffey's insurance carrier, according to Markham.
As to earlier claims that damages were sustained at the Port of Sunnyside's building, occupied by EnTrust, Port of Sunnyside Property Development and Project Manager Jed Crowther said, "By visual inspection, the interior walls and finish appear to be fine. External cracks near the rear entry of our building were observed."
He said it is unknown whether the exterior cracks were linked to recent construction activity, however.
"We will continue to monitor structural integrity," said Crowther, adding that port officials didn't receive any complaints about vibrations or noise during the compaction at the Sunnyside Fire Department's construction site.
In the meantime the city, construction company, engineers and insurance companies are awaiting the results from the various studies being completed.
"We're waiting on the information," said Innis, stating there isn't much more to say until the studies are complete.