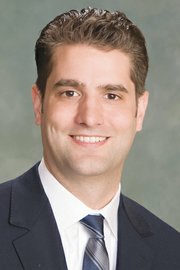 Yakima attorney David P. Abeyta of Abeyta Nelson Injury Law has been elected to the Board of Governors of the Washington State Association for Justice.
WSAJ is comprised of more than 3,000 attorneys throughout the state who represent people who have been injured due to the fault of others.
Abeyta, who was raised in Yakima, received his undergraduate degree from Washington State University and his law degree from California Western Law School in San Diego.
Abeyta has practiced law with Abeyta Nelson since 2010. He is active in the community as a loaned executive with United Way of Central Washington and as an executive committee member of New Leaders of Yakima County.
Abeyta's wife, Chelsea Irwin-Abeyta, is a realtor at Prudential Almon Realty. They have two children.
Abeyta Nelson Injury Law services Lower Yakima Valley residents at its Sunnyside office.