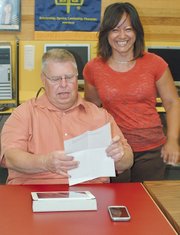 Monday night's regular monthly meeting may have been a short one, but the Grandview School Board accomplished one major goal toward improving school safety for students and staff in the Grandview School District.
The board accepted a bid of $189,000 from Legend I.D. for a new electronic access system to be installed at all of the district schools within the coming months.
The system will allow the district to control who is allowed access to Grandview schools, according to Grandview Schools Superintendent Kevin Chase.
"The idea is to prevent intruders from coming onto campus," he said.
"They will be deterred by being held outside the buildings until their business at the schools can be determined," he explained.
The electronic access system uses a series of video screens, cameras and electronic key cards, which will allow those with a reason to be on the district campuses access while detaining others.
The system is all part of the district's ongoing efforts to improve the learning and safety environment at the schools, said Paul Jepson, Grandview School Board chairman.
He said the key cards and student identification cards will only allow them into areas where they belong while staff will have access to areas pertinent to their jobs.
The electronic access system is just a part of the safety measures being taken by the district, Chase said.
"We are now seeking bids for a district fencing project to further restrict access to campuses and school buildings," Chase added.
He said all district school campuses will be outfitted with the electronic access system, but only Grandview Middle School, Grandview High School and Compass High School will be fenced.