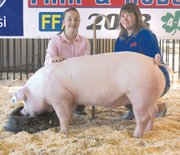 Young-sters from throughout the Yakima Valley last week showcased their showmanship and skills at raising a variety of livestock at the annual Yakima Valley Fair & Rodeo.
The time and hard work paid off for many and officials have named those who earned championship honors.
Earning championship honors in the hog division were FFA grand champion Billy Van Wingerden and 4-H grand champion Braydon Flood.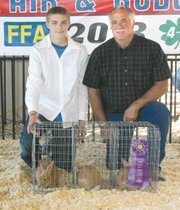 Reserve grand champions in the hog division included FFA member Emily Greene and 4-H member Alex Partch.
Grand champion honors were awarded to 4-H member Olen Osborn for his fryers and his rabbits.
In the sheep division, FFA grand champion honors were presented to Connor Duim. The 4-H grand champion was Kord Tuttle.
Earning reserve champion honors for their lambs were FFA member Mickayla Long and 4-H member Dameon Garza.
Grand champion honors were awarded to FFA member Emilee Giles and 4-H member Kelli Jo Ohler in the market beef division.
The reserve champions for market beef included FFA member Molly Matsumara and 4-H member Lauren Ziegler.
Bailey Greene was awarded grand champion honors for FFA market goats and the 4-H grand champion was Katelyn Greene.
Reserve champions in the market goats division included Bailey Greene and Hannah Dexter.