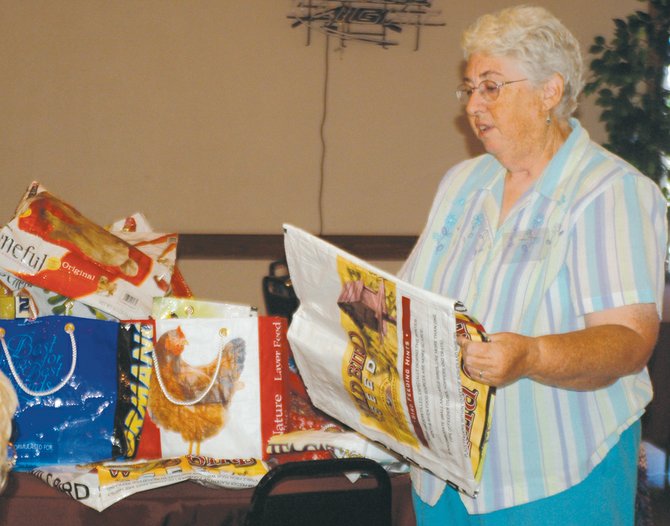 One tote was adorned with colorful birds, still others with happy dogs, cats and even a goat.
Yesterday, Tuesday, Marilyn Hayhurst explained how she obtained her totes not from a shop but from empty animal food bags.
She displayed some of her bags and gave a brief primer on creating them during the Lower Valley Christian Women's Connection luncheon in Prosser.
The Madras, Ore. woman was there with her daughter, Katherine Weaver, the speaker for yesterday's program.
Hayhurst got started with her hobby when her husband became ill and was unable to get out. As a result, she changed her lifestyle so she could be at home with him more.
That change brought about her love of taking empty, throwaway feed bags and converting them at home into attractive totes she now sells for $7 apiece.
She says it's a fairly simple process once a person gets the hang of it.
The transformation from feed bag – hers range from sacks for bird seed to goat feed - to tote does involve some sewing skills and a minimum of cutting.
Those making the totes also need to purchase materials to use for the handles and a grommet kit for each bag. Hayhurst notes a wide variety of options are available for handles. She prefers braided nylon.
The result is an attractive tote, a farm kitsch bag to take to market.
Those interested in step-by-step instructions are in luck as Youtube has several instructional videos on converting the bags to totes.